Youngevity Announces International Expansion Into Russia And Israel
February 25, 2014
By Team Business For Home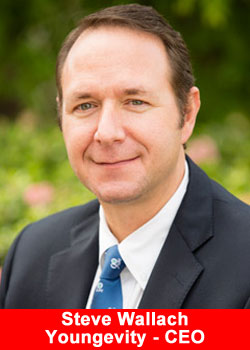 Youngevity International, Inc. (otcqx:YGYI) ( www.YGYI.com ), a global direct marketer of nutritional and lifestyle products and also a vertically-integrated producer of gourmet coffees for the commercial, retail and direct sales channels, announces initial details of its business development plan for its proposed expansion into Russia and Israel.
The plan includes the anticipated opening of a distribution and sales support center in Moscow later this year and expanding its direct selling coverage and distribution model to generate higher levels of global market penetration.
"We are excited about our expansion into Eastern Europe and Israel and we are building a foundation of success designed to promote rapid international growth of our direct selling business," said Steve Wallach, Youngevity's Chief Executive Officer.
"Youngevity has been readying and positioning itself for global expansion and we expect this will be a major growth driver for the next several years. Youngevity currently ships its products to over 60 countries, but this accounts for only 8% of our revenue. We believe that the global demand for our products is apparent and we are poised to make an impact internationally."
Youngevity also announced today that it has appointed Ricardo Spilman as Director of Sales and Operations for Eastern Europe and Israel. In this role, Mr. Spilman is expected to help advance Youngevity's commitment to ongoing, international expansion.
Ricardo Spilman joins Youngevity from PM-International AG, which is one of Europe's largest direct marketing companies in the areas of health, wellness and beauty. Ricardo was an Advisor reporting to PM-International's Board of Directors and was responsible for managing companies; including business development, international expansion, negotiations with major suppliers, and developing training programs for distributors. Mr. Spilman has 30 years of experience in this direct selling industry.
"We are pleased to add Ricardo Spilman to our executive team. His experience and proven track record for success is just what we were looking for to lead this effort. We are planning the opening of an office in Moscow by the third quarter of this year along with a number of distribution points to cover the region," said Dave Briskie, Chief Financial Officer of Youngevity International.
"Based on market research, direct selling contributes significantly to the Russian economy both financially and in terms of quality of life and is highly popular amongst many consumers in Israel. We are committed to growing internationally and believe an expansion into Russia, Eastern Europe, and Israel represents long-term growth opportunities."
About Youngevity International Inc.
Youngevity International Inc., (otcqx:YGYI) ( www.YGYI.com ) is a fast-growing, innovative, multi-dimensional company that offers a wide range of consumer products and services, primarily through person-to-person selling relationships that comprise a network of networks. The Company also is a vertically-integrated producer of the finest coffees for the commercial, retail and direct sales channels. The Company was formed after the merger of Youngevity Essential Life Sciences ( www.youngevity.com ) and Javalution Coffee Company in the summer of 2011. The company was formerly known as AL International, Inc. and changed its name to Youngevity International Inc. in July 2013.