Zrii Launches New Viral Commitment Marketing System
February 26, 2014
By Team Business For Home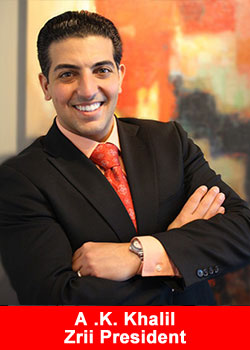 Zrii LLC has publically announced a brand new, company-wide corporate marketing campaign, making Zrii the first – and only – clean eating commitment company in the world.
As the #1 health commitment company, Zrii's family of global Independent Executives are making, declaring and sharing their commitment to clean eating with others.
The new message has gone viral on social media and around the world. Zrii Founder Bill Farley attributes this in part to the simplicity of the message, and in part to the "everybody wins" philosophy the company has adopted.
"We are the only network marketing company in the world to reward everyone," he says. "Rather than selecting a small handful of grand prize winners, we reward each and every person in our company with bigger and bigger prizes the longer they stick with their clean eating commitment and the more people they share that commitment with."
The company's new direction was revealed to a select group of Zrii Independent Executives at an Atlanta event earlier this month. Within just a few hours, social media caught fire and the message went viral – driving massive enrollment numbers, igniting the company's existing IEs, and driving record revenue growth. Zrii President A.K. Khalil summed it up: "We're on our way to a billion dollar brand because the message is simple, clear and inclusive. As the number one health commitment company in the world, we reward you for making, declaring and sharing your commitment. Everyone wins. Period!"
By staying committed for just 90 days, Independent Executives and customers around the world start earning their way into exclusive Commitment Clubs where they are rewarded and recognized. To make it easy to reach that first milestone, Zrii has launched a unique, online Commitment Clock to track people's progress and keep motivation high. When people stay committed to clean eating for 90 days, they join the Committed90 Club and earn their first prize. The longer they stay committed, the more Commitment Clubs open up to them and the more prizes they win.
V.P. of Global Sales Matt Ward describes Zrii's clean eating philosophy as "choosing simple, wholesome, all-natural foods, products and supplements that support a healthy lifestyle." That means consuming less highly processed food, and instead choosing all-natural, good-for-you products made with real ingredients that aren't created in a laboratory. All Zrii products are made with this "clean eating" philosophy in mind: ingredients include fresh fruits, vegetables, whole grains, lean protein, vitamins and minerals. Zrii products do not contain chemicals, artificial flavors, artificial colors or preservatives and are organic whenever possible.
The company's clean eating commitment strategy is clearly taking the world by storm. "We expect this to be the biggest year in the company's history," explains President A.K. Khalil. "This is a large leap forward on our way to a billion dollars."
Zrii is the #1 health commitment company in the world. It was founded in 2008 with the goal of enhancing the health and happiness of people around the world by helping people commit to clean eating. Zrii products carry the exclusive endorsement of the world-renowned Chopra Center for Wellbeing, headed by mind-body health expert Dr. Deepak Chopra, Zrii products are sold through a network of Independent Executives throughout the United States, Canada, and Latin America.