Kearney Couple Joins It Works! Millionaire's Club
March 5, 2014
By Tina Williams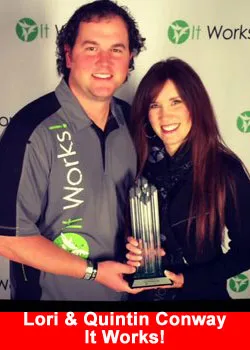 Lori Conway and husband Quintin of Kearney were recently awarded by ItWorks Global as the company's No. 7 earners for the year and welcomed into the ItWorks Millionaire's Club.
"Being a top earner and making the Millionaire Club is a dream come true," Lori, a stay-at-home mom, said in a press release.
The Millionaire's Club is for members of ItWorks Global who have earned more than $1 million in income.
"It was quite exciting to be honored," Quintin said in the release. He has retired from a job in banking because of the couple's success with ItWorks.
According to the company's website, its first product is still its most popular. The Ultimate Body Applicator is a site-specific body-contouring treatment advertised as providing tightening, toning and firming results as an alternative to cosmetic surgeries or constricting shapewear.