LiveSmart 360 Announces Chuck Hallberg As New President & CEO
March 8, 2014
By Team Business For Home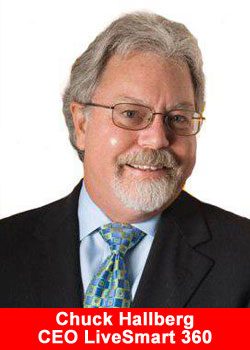 Company projects 300% percent growth in fiscal year 2014
LiveSmart 360 recently announced Mr. Chuck Hallberg as it's new President and CEO. Mr. Hallberg comes from a successful business background, having previously grown a fledgling startup to a $1.5 billion INC 500 Number One business in a few short years.
More on his background can be read here: https://www.inc.com/welcome.html?destination=https://www.inc.com/magazine/20070901/how-i-did-it-charles-hallberg.html
For the past two years, Mr. Hallberg has been the principle financial backer for the company. The company's leadership team welcomes Mr. Hallberg's increased involvement as the company continues to expand operations across the United States, Europe and beyond.
Vice President of Sales, Steven Thompson, elaborates,
"Chuck has played a pivotal role in guiding 360 up this point, but the entire 360 family is excited to have Chuck stepping up into a full time active role in the company. Obviously, corporate leadership of Mr. Hallberg's stature is rare, especially in the Direct Sales industry. Our company believes we have the capabilities to create a billion dollar global brand with Chuck at the helm it only increases our odds even more."
Mr. Hallberg replaces Mark McCool, LiveSmart 360's Founder and former CEO. As the Founder of 360, McCool was instrumental in leading the Company through the initial formulation stage of it's development. He will continue his involvement with the company working alongside VP of Sales Steven Thompson as field leader, a place where his passion lies.
Prior to becoming an owner, Mr. McCool built a very successful organization and personally earned in excess of seven figures as a Distributor.
McCool states, I am eager to rejoin my colleagues in the field, and I am thankful to Mr. Hallberg for taking over day to day leadership of the company. Chuck has built a billion dollar business before, and I am confident that 360 will flourish under his leadership. Our future has never been brighter.
I see tremendous opportunity for LiveSmart 360 and plan to ensure the ongoing success of the company, says Hallberg. He continues, I believe very strongly in 360's legacy and viability for decades to come, and I look forward to helping people fulfill their dreams of achieving time and financial freedom in their own lives.
From its inception, LiveSmart 360 has been a global market leader. Under it's flagship 360 Chocolate's line, the company has experienced stellar growth. 2013 recorded 300% fiscal year growth and the Executive team is excited for even greater things in 2014.
VP of Sales Steven Thompson states, "2013 was an exciting year for our company but we know that this year is when our concept will truly explode. Between our efforts in the U.S., Europe and Japan we are thrilled with what the future holds. Any leader who is looking for a true long term home should give 360 a serious look."