USANA Is Athletes Best Kept Secret
March 25, 2014
By Tina Williams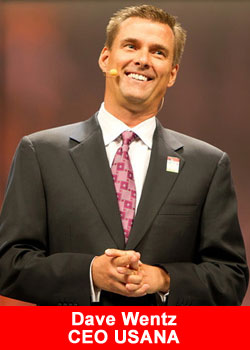 People want to know—how do elite athletes prepare for their next fight, match, or race? It's no surprise that athletes dedicate their lives to improving in their chosen sport, and many of them keep the same secret about how they maintain their craft at an elite level. But their secret is now out. It's USANA Health Sciences.
Recently, nearly 200 @USANAinc-sponsored athletes competed in the 2014 Sochi Winter Games with unprecedented results. If @TeamUSANA was a country, it would have placed second in the overall medal standing with a record 30 podium appearances—13 gold, 7 silver and 10 bronze—and tied with Russia for the most gold hardware of the Games.
But what makes USANA the ultimate choice for athletes?
Million Dollar Athlete Guarantee
Everyone loves a product with a guarantee. But how many companies will give an athlete up to one million dollars if they test positive for a banned substance as a result of taking its products?
The answer: one.
Athletes can find their careers in jeopardy if they test positive for a banned substance. That's why USANA created the Athlete Guarantee Program, specifically designed for any participating Team USANA athlete who needs hardcore reassurance that they will not test positive for a banned substance as a result of taking USANA's nutritional products.
We put our money where our mouth is with our Athlete Guarantee Program. We are not aware of any other supplement company that offers this kind of guarantee, and we have never had an issue. In fact, in 21 years of doing business, we have never had a single product recall. —Brian Dixon, Ph.D., USANA's executive director of scientific and clinical affairs
In fact, this guarantee, along with several other factors, is a cornerstone to USANA's successful relationship with the Women's Tennis Association—which was just renewed for another three years—as well as other top-notch athletic organizations.
I can trust USANA's products because I know what I'm taking is safe and pure. I'm thankful for our strong partnership and am proud to be one of the 600-plus elite athletes around the world who trust their health to USANA. —Sam Stosur, WTA star and USANA brand ambassador
NSF Certification
NSF International is an independent organization that helps protect consumers by certifying products and establishing standards for food, water, and consumer goods. Six of USANA's world-class products have been validated through NSF International's Certified for Sport™ program: Chelated Mineral, Mega Antioxidant, Active Calcium™, Procosa®, Proflavanol® C100 and SportsPak.
Athletes all over the world have taken notice.
Jumping is 80 percent mental and 20 percent physical. It's one of the hardest sports because of how fast and precise it is. I spend three days a week in the gym working on strength training and six days a week in all training. Keeping healthy all around is vital, and I am thankful to have USANA and its products as part of my routine. —Sarah Hendrickson, Women's Ski Jumping team member
FDA Drug Establishment and Good Manufacturing Practices
To ensure the company's products are safe and effective for all customers—including both the professional athlete and the weekend warrior—USANA voluntarily patterns their facility after the more stringent U.S. Food and Drug Administration (FDA) Good Manufacturing Practices for pharmaceuticals as the basis for its quality assurance program, which regulates virtually every aspect of manufacturing.
In addition, USANA has acquired Drug Establishment Registration with the FDA, which means USANA operates an FDA-registered facility and follows the FDA's highest possible standard for manufacturers. This gives the multi-million dollar company the option to produce over-the-counter (OTC) drugs while holding it to a quality standard well above what is required of a typical dietary supplement manufacturer.
Few companies voluntarily submit themselves to increased scrutiny, but since we operate in 19 countries including Australia, where dietary supplements are highly regulated by the Therapeutic Goods Administration (TGA), our base manufacturing standards are extremely high. Manufacturing most of our products in-house helps further assure our product users of their quality. – Dave Wentz, USANA Chief Executive Officer
Personalization
USANA's central focus is personalization. All athletes are given the option to purchase USANA's MyHealthPak SportsPak, which is NSF Certified for Sport and comprised of products perfect for the everyday athlete and the elite athlete.
Taking commitment to personalization one step further, the launch of USANA's True Health Assessmentrevolutionized the way the company's consumers saw and purchased nutritional products. The Assessment asks the user a variety of health-related questions and provides a personalized list of nutritional recommendations based on their answers. No matter what their needs—whether they're an elite athlete or a stay-at-home mom—USANA has the right fit for everyone.
USANA's the best. Hands down. USANA products are products I trust and believe in. They completely changed my life. I've been taking them for four years now. In those four years I captured four world championships, baby. —Timothy Desert Storm Bradley Jr., current WBO welterweight champion
About USANA
Founded in 1992, USANA Health Sciences (USNA) is a U.S.-based nutritional company that manufactures high-quality supplements, personal care and energy products in its FDA Drug Establishment in Salt Lake City.