WorldVentures Expands to Puerto Rico
March 1, 2014
By Tina Williams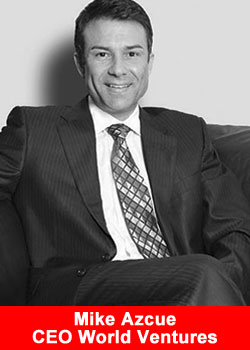 WorldVentures™, the leading international direct seller of vacation club memberships, announced its expansion into Puerto Rico today. Known for its beautiful beaches, lively cultural events and music, the all-star island has been on the company's radar for quite some time. In addition to Puerto Rico, WorldVentures offers its award-winning DreamTrips Memberships and exciting business opportunities for entrepreneurs in 26 worldwide markets.
"The expansion of our products and services in Puerto Rico speaks to the tremendous growth our company has experienced in the last eight years," WorldVentures Co-Founder and Chief Executive Officer Mike Azcue said. "Puerto Rico is one of the world's top vacation destinations, so it was only natural for us to envision WorldVentures there to bring personal freedom and fulfillment to those who will join our team."
WorldVentures now offers Puerto Rican travel enthusiasts the opportunity to purchase an exclusive travel club membership offering superior value. Members of the award-winning vacation club enjoy unique global travel experiences along with discounts on local entertainment deals. This is also an opportunity for aspiring Puerto Rican entrepreneurs who would like to sell DreamTrips Memberships to new travel aficionados in any of WorldVentures' markets.
Within the last year, WorldVentures has launched in four new markets: Iceland, Poland, Malaysia and now Puerto Rico.
About WorldVentures:
WorldVentures is the leading international direct seller of vacation club memberships. WorldVentures is on a mission to help people achieve more fun, freedom and fulfillment in their lives, and to provide its members with premium vacations at reduced prices. WorldVentures combines the power of the Internet with the strength of the direct-selling industry to market its DreamTrips Memberships. WorldVentures is a privately held company based in Plano, Texas, with active Representatives and members in 26 countries.