4Life Sales Up 75% In South Korea
April 21, 2014
By Team Business For Home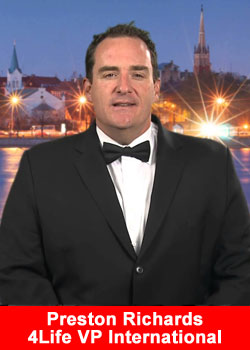 4Life executives and distributors gathered over the weekend at the Daemyung Vivaldi Park for recognition, distributor leadership training, and the successful launch of 4Life Transfer Factor Vista™. The rally was attended by more than 500 people.
Top distributor leaders in attendance included: Gold International Diamonds Dr. Jase Khyeam, Son Jae Min, Nadzrul Salim, Grace Chun and Lee Sun Woo, Kang Ok Nye, and Hong Suk Eui. Vice President, International Preston Richards, General Manager of Korea Tony Lee and Director, International Yukako Kaiser also attended the event.
In addition to motivational presentations by all the Gold International Diamonds in attendance, Preston Richards also presented an update on the market's performance throughout the past year and celebrated their strong growth.
Preston Richards: "It is exciting to see such consistent growth in South Korea.

4Life continues to expand its worldwide presence due to the dedication and strong leadership of so many committed distributors. It is a pleasure to support their success."
With year-over-year sales up 75% in South Korea, the country remains a top-performing 4Life market.
4Life has offices on five continents to serve a global network of independent distributors through science, success, and service.
About 4Life
In 1998, 4Life Founders David and Bianca Lisonbee launched the company's flagship immune system support product, 4Life Transfer Factor®. As the first network marketing company to do so, 4Life's leading group of doctors, scientists, and researchers continue to advance immune system science with innovations in product formulation, production standards, delivery methods, and more. Today, people in more than 50 countries enjoy the immune system support of 4Life products.
4Life distributors around the world share the science of 4Life products, coupled with the opportunity to achieve financial success, with people who want to enjoy the benefits of a healthy lifestyle and a healthy income. Foundation 4Life®, the company's distributor-driven humanitarian arm, is committed to service activities that addresses community needs wherever 4Life conducts business around the world.