Ernest and Sherita Ross – ViSalus Hit $93,000 Per Month
April 16, 2014
By Team Business For Home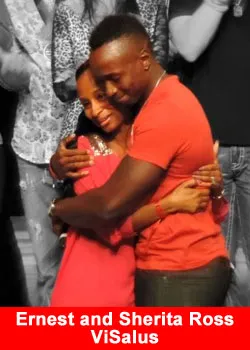 Ernst and Sherita Ross had a journey from being a personal trainer with NO network marketing experience, to becoming a ViSalus 5-Star Ambassador, earning $93,000 a month.
Talk to him for a few minutes, and you'll see firsthand how his passion for promoting the PROJECT 10™ Challenge is…contagious.
The latest chapter of his story will likely include the fact that he and wife Sherita were honored at NST Atlanta with the "Most Valuable Promoter" (MVP) award for 2013.
Given annually, the MVP award recognizes the Promoter who raises the bar not only from a sales and team growth standpoint, but also serves as an exemplary leader and inspiring example of our Vi mission.
To date, Ernest and Sherita Ross have helped thousands of individuals nationwide at an unprecedented rate.
"ViSalus is not just an opportunity, it is the opportunity," says Ernest.
As Ernest works toward earning the Diamond Ambassador rank, he challenges people to become healthier on a daily basis by asking, "What are you waiting for?"
For those who get to know Ernest, they likely won't be waiting long.
Watch Ernest and Sherita Ross receive the MVP Award at NST 2013.
5-Star Ambassadors Ernest and Sherita Ross are Honored with Vi 2013 MVP Award5-Star Ambassadors Ernest and Sherita Ross are Honored with Vi 2013 MVP Award – See more at: https://visalusblog.com/share/ernest-and-sherita-ross-are-honored-with-vi-2013-mvp-award/#sthash.PegYwzmI.dpuf
5-Star Ambassadors Ernest and Sherita Ross are Honored with Vi 2013 MVP Award – See more at: https://visalusblog.com/share/ernest-and-sherita-ross-are-honored-with-vi-2013-mvp-award/#sthash.PegYwzmI.dpuf
5-Star Ambassadors Ernest and Sherita Ross are Honored with Vi 2013 MVP Award – See more at: https://visalusblog.com/share/ernest-and-sherita-ross-are-honored-with-vi-2013-mvp-award/#sthash.PegYwzmI.dpuf
5-Star Ambassadors Ernest and Sherita Ross are Honored with Vi 2013 MVP Award – See more at: https://visalusblog.com/share/ernest-and-sherita-ross-are-honored-with-vi-2013-mvp-award/#sthash.PegYwzmI.dpuf