MonaVie Receives Utah Genius 2014 Award for Most Trademarks Registered
April 16, 2014
By Team Business For Home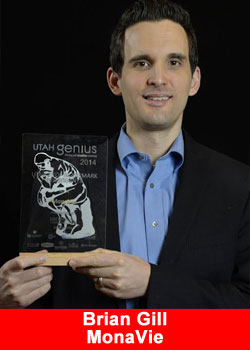 MonaVie received top honors at the 2014 Utah Genius Awards for their innovation in trademark earlier this month at the Little America Hotel.
Bateman IP Law Group and KSL presented the award to MonaVie Vice President of Communications Brian Gill.
Utah Genius serves to honor and recognize the people, companies and cities that contribute to the state's growth with patents and trademarks. In 2013, MonaVie registered 18 new trademarks related to their products and brand, which earned the company the No. 1 ranking in the trademark category.
"MonaVie is grateful to Utah Genius, the Bateman IP Law Group and KSL for recognizing the great innovators of Utah," said Gill. "We are also grateful to accept this recognition as one of the most innovative companies in the state."
When accepting the award on behalf of MonaVie, Gill provided one reason the company registers a large volume of trademarks. He explained that MonaVie's mission statement is to: "Create more meaningful lives by enhancing the relationships and daily practices of the communities we serve through our products and business opportunity."
"In other words, MonaVie looks for points of intersection between our products and opportunity and the needs and wants of our communities," said Gill. "And when we find those areas of intersecting opportunity, we create products and initiatives to support them."
About Utah Genius
Utah Genius was founded in 2009 by Rand Bateman, a local patent attorney. Appreciating that much of Utah's vibrant economy has to do with the innovative nature of Utah companies, Rand decided that he could give back to the community by honoring those who were driving Utah's creative economy. Utah Genius recognizes: Utah's Top 20 Inventors, Utah's Top 20 Companies by Number of Patents Issued, Utah's Top 20 Trademark Registrants, Lifetime Achievement Award. The awards are based on objective statistics from the US Patent and Trademark Office, not votes.
About MonaVie
Since 2005, MonaVie has developed premium products dedicated to promoting health and wellness worldwide. With distribution in 40 markets, MonaVie addresses four key areas necessary for optimal health—Nutrition, Weight, Energy, and Stress—with products made from the best and rarest ingredients on Earth.
The products, in conjunction with MonaVie VIEW Antioxidant Scanner, empower people to live healthier, more meaningful lives. That greater meaning is revealed through our heartfelt commitment to doing good in the world and by helping children and families in need through the MORE Project. Start living A More Meaningful Life today and discover the true, life-changing power of MonaVie. Learn more at https://www.monavie.com, or connect with us on social media