Nerium International Revenue Increases To $219 Million in 2013
April 25, 2014
By Team Business For Home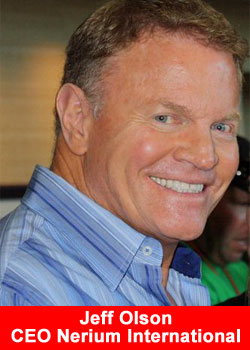 Creator of breakthrough skincare products validated by science, Nerium International was recognized for the second year in a row on Direct Selling News' Global Top 100 List.
Last year Nerium was honored as the youngest company to ever make the list. And this year, Nerium jumped from number 86 to number 54 on the list in just one year, continuing its impressive path to the top. Initiated in 2010, The Global 100 Awards were created to honor the top 100 direct selling companies in the world.
In addition, because of Nerium's impressive growth, they also earned a spot on The Success Partners $100 Million Growth Club.
We are honored and humbled in our two years of being in business to be able to be recognized for our company's growth and success. All the achievements and growth are celebrated amongst everyone at our company – our brand partners and those whose lives we've touched and been able to make a difference in, said Nerium International Founder and Chief Executive Officer Jeff Olson.
Since its August 2011 launch, Nerium has reached record-breaking sales and earned industry accolades while earning millions of product fans along the way. Nerium has also made a major splash in the philanthropy world with its Big Brothers Big Sisters partnership raising $500,000 in 2013 alone, with a goal of raising 1 million dollars in 2014. Nerium also continued its tremendous success in 2013 with the introduction of NeriumAD Day Cream.
According to John Flemming, Editor-in-Chief of Direct Selling News, Nerium is truly a growth company…amazing story and this is still just the beginning!
This year is proving to be another successful year, with Nerium experiencing its most explosive growth yet. Nerium recently introduced NeriumFirm, a contouring cream proven to reduce the appearance of cellulite and to help smooth, tighten and firm the appearance of loose skin. Nerium has also developed and released Optimera, an international anti-aging product line, and expanded internationally to Ontario and British Columbia, Canada with plans to launch the rest of Canada by the end June which is just the start of their international expansion plans.
We are proud of all that we have been able to accomplish, but we see this as just the beginning of changing millions of lives, said Olson.
About Nerium International
Nerium International™, LLC, headquartered in Addison, Texas, markets breakthrough products clinically proven to reduce the appearance of multiple skin concerns at once. Since its August 2011 launch in the US, Nerium has reached record-breaking sales and earned industry accolades while building millions of consumer fans along the way. With its April 2014 launch in Ontario and British Columbia, Canada, Nerium has officially started its international expansion. Led by an executive team with more than 150 years of collective experience, Nerium is committed to developing and distributing skincare products that are rooted in real science, produce real results, and improve consumers' lives. For more information, please visit www.mynerium.com.