Robert Dean Jr. Joins Talk Fusion
April 14, 2014
By Team Business For Home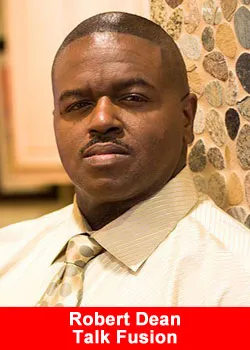 Relationship Marketing Icon Robert Dean Jr. Joins Talk Fusion.
Florida company welcomes multimillionaire industry veteran to its global Associate network
Video communication and relationship marketing company Talk Fusion announced today that 22-year relationship marketing veteran Robert Dean Jr. has joined the company as an Independent Associate.
Dean rose to prominence as a top earner with several notable companies including ACN and Tahitian Noni. He accumulated over $28 million in career earnings and established a global presence with his T.O.P. G.U.N. Wealth Mastermind System. His trademark enthusiasm, unstoppable work ethic and motivational leadership are a perfect fit at Talk Fusion, where he plans to work his way to the top of the ranks and expand the company's U.S. market.
"Looking at Talk Fusion with a 360-degree view over these past few days, I have no doubt in my mind that this company is an absolute category creator," said Dean. "Instant Pay, no inventory and the timing of the products alone make this the best opportunity I've ever seen for anyone looking to build wealth and transform their lifestyle."
Born in Atlanta, Georgia, Dean grew up in a lower class neighborhood where the hardship of poverty and the development of a positive mindset were an everyday battle.
"When you live like that, it's a choice," said Dean. "I could hang around thugs or go to school and get straight A's."
Dean chose the latter, working tirelessly as he progressed through his early life making honor roll, attending college and serving in the military. He was always determined to be a millionaire, but despite early successes, Dean eventually found himself struggling from paycheck to paycheck as a FedEx employee. Like many in the industry, he was first introduced to relationship marketing through a friend. Immediately attracted to the possibility of unlimited income and self-created success, Dean jumped at the opportunity to start right away.
Dean worked ferociously—which he still does today—on weekends, over holidays, and even on vacations to grow a massive network of Associates and eventually become the top earner with Tahitian Noni.
From there, Dean used his unyielding work ethic and passion for helping others in a number of other relationship marketing ventures. Along the way, he developed his T.O.P. G.U.N. (Together Overcoming a Poverty mindset while Getting Unlimited income Now) System, which has helped thousands achieve independent wealth by following his proven principles of industry success. A lifelong advocate for positive youth development, Dean recently established Millionaire Days, a mentorship program that teaches the tenets of business success to young students across the country.
"Robert is an incredible example of what this industry does for people. We couldn't be more excited to have him on board at such a pivotal time in company history," said Talk Fusion Founder & CEO Bob Reina. "I can't wait to see his leadership in action as he inspires his team to achieve their dreams and reach financial freedom with us."
ABOUT TALK FUSION
Talk Fusion is a rapidly growing global company dedicated to changing lives through providing cutting-edge personal and business Video Communication Products and a lucrative business opportunity. Talk Fusion's innovative products are marketed person-to-person by independent Associates in more than 140 countries.
The company was founded in 2007 by CEO Bob Reina and introduced the world's first Instant Pay Compensation Plan. Talk Fusion adheres to the highest ethical business practices and is a member of the prestigious Direct Selling Association (DSA). Reina firmly believes that "with great success comes greater responsibility." To that end, his commitment to giving back has benefited numerous charitable organizations. Learn more at www.TalkFusion.com, www.JoinTalkFusion.com and "Like" Talk Fusion at www.facebook.com/TalkFusion.
Income Disclaimer:
Any earnings portrayed in any Talk Fusion marketing materials are not necessarily representative of the income, if any, that a Talk Fusion Associate can or will earn through his or her participation in the Talk Fusion Instant Pay Compensation Plan. All references to income, implied or stated, throughout the Talk Fusion Instant Pay Compensation Plan are for illustrative purposes only. These figures should not be considered as guarantees or projections of your actual earnings or profits. Talk Fusion does NOT guarantee any level of income or earnings to any Associate; any representation or guarantee of earnings would be misleading. The purchase of a Talk Fusion Product Package is completely optional and is not required for an Associate to participate in the Talk Fusion Instant Pay Compensation Plan.