Talk Fusion Announces Change 2015 Event
April 25, 2014
By Team Business For Home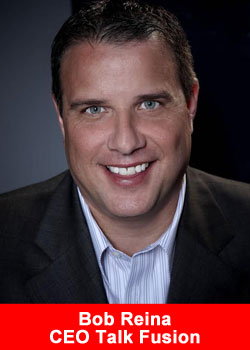 Popular Talk Fusion annual event to be held in Tampa in March 2015.
Florida-based Video Communication and Relationship Marketing company Talk Fusion has announced that its next annual corporate event CHANGE will take place in Tampa, Florida from March 27–30, 2015.
Set to take place at the Marriott Waterside Hotel & Marina, CHANGE will feature four days of celebration, recognition, awards training and more. The event will welcome Talk Fusion Independent Associates from over 140 countries who currently share the company's innovative Video Communication products and life-changing Business Opportunity.
CHANGE 2015 will begin on Friday, March 27 with an exclusive VIP training session and reception hosted by Talk Fusion Founder & CEO Bob Reina. He will be joined by VP of Training & Development Allison Roberts, and VP of Field Development Rob Hukezalie. The Saturday main event will include thrilling live performances, Associate recognition, new announcements and special surprises. A "Mingle with the Masters" reception will follow, giving Associates the chance to meet and network with some of the most successful leaders in the business.
Sunday will feature live Diamond Rush Training where Associates will learn the key principles of running a successful Talk Fusion business from Founder & CEO Bob Reina. CHANGE will come to an exciting close on Monday, March 30 when Talk Fusion opens the doors to its corporate offices in Brandon, FL for a behind the scenes Red Carpet Tour and live video broadcast to the world.
"There's no doubt in my mind that CHANGE will be the biggest event Talk Fusion has ever hosted," said Bob Reina. "Our global presence is expanding at a record pace and we're going to show Associates worldwide why they're with the best relationship marketing company today."
CHANGE 2015 will follow a series of Talk Fusion international events in 2014 including the June Dream Getaway incentive trip in Maui, Hawaii; "You Can!" in St. Petersburg, Russia this July; and an inspirational experience entitled "Hero" in Surabaya, Indonesia this September.
Early VIP Registration for CHANGE 2015 is currently open to all Talk Fusion Associates.
ABOUT TALK FUSION
Talk Fusion is a rapidly growing global company dedicated to changing lives through providing cutting-edge personal and business Video Communication Products and a lucrative business opportunity. Talk Fusion's innovative products are marketed person-to-person by independent Associates in more than 140 countries.
The company was founded in 2007 by CEO Bob Reina and introduced the world's first Instant Pay Compensation Plan. Talk Fusion adheres to the highest ethical business practices and is a member of the prestigious Direct Selling Association (DSA). Reina firmly believes that "with great success comes greater responsibility."
To that end, his commitment to giving back has benefited numerous charitable organizations. Learn more at www.TalkFusion.com, www.JoinTalkFusion.com and "Like" Talk Fusion at www.facebook.com/TalkFusion.
Income Disclaimer:
Any earnings portrayed in any Talk Fusion marketing materials are not necessarily representative of the income, if any, that a Talk Fusion Associate can or will earn through his or her participation in the Talk Fusion Instant Pay Compensation Plan. All references to income, implied or stated, throughout the Talk Fusion Instant Pay Compensation Plan are for illustrative purposes only. These figures should not be considered as guarantees or projections of your actual earnings or profits. Talk Fusion does NOT guarantee any level of income or earnings to any Associate; any representation or guarantee of earnings would be misleading. The purchase of a Talk Fusion Product Package is completely optional and is not required for an Associate to participate in the Talk Fusion Instant Pay Compensation Plan.