Talk Fusion Hosts 4 Day Motivational Conference
April 9, 2014
By Team Business For Home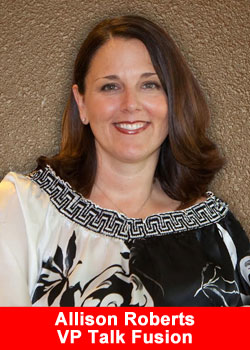 Florida-based video communication and relationship marketing company Talk Fusion announced that its IMAGINE corporate event was a resounding success.
Held April 4-7 in Tampa, Florida, IMAGINE welcomed hundreds of Talk Fusion Associates from around the world as they converged for inspiration and training under the shared idea that life can be all you imagine and more when you build a successful home-based business with Talk Fusion.
Talk Fusion's annual corporate events always feature incredible moments and IMAGINE was no exception. During the Saturday main event at the Marriott Waterside, Associates witnessed the live launch of the new TalkFusion.com and the premiere of the all-new recruiting site JoinTalkFusion.com, which explains the benefits of joining the company through a series of engaging and easy-to-understand videos. These include a 3-minute overview of the company, Mercedes Madness and Dream Getaway Incentive commercials, an inviting "How to Get Paid" video and success stories from the company's top leaders alongside the newest e-book written by Talk Fusion Founder & CEO Bob Reina, The Answer.
Those attending also got the opportunity to hear about two soon-to-be-released Talk Fusion products: Talk Fusion Voice, the company's own social video blogging community and CONNECT Quick Chat, which enables face-to-face video communication from any web-enabled device with zero downloads, plugins or attachments required.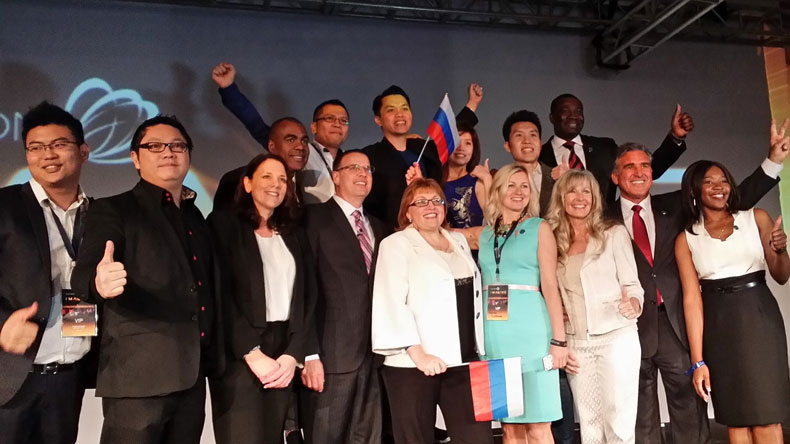 IMAGINE featured touching moments of Giving Back as the company highlighted the millions in charitable contributions it has donated to causes across the world over the past year. During the event, Talk Fusion raised an additional $25,000 for SPCA Florida's animal rescue efforts with a fundraising raffle. In one of IMAGINE's most emotional moments, Talk Fusion Associate and three-time cancer survivor Beverly Monical was personally invited by Talk Fusion VP of Training & Development Allison Roberts to join the company for its Hawaii Dream Getaway vacation. Due to her illness, Beverly couldn't qualify for the company's 2014 Dream Getaway incentive, but now she'll enjoy a luxury vacation in Maui alongside the some of company's top leaders and executives in June.
"Beverly is the strongest woman I know," Roberts remarked as she fought back tears alongside Monical and her husband Bill. "Her story is an incredible example of overcoming adversity and a true inspiration to all of us."
IMAGINE also played host to two special training events hosted by Talk Fusion Founder & CEO Bob Reina. On Friday, VIP attendees experienced an exclusive "Millionaire Mindset" training session where Reina shared his insight and revealed the core principles of building a lucrative business with Talk Fusion. Sunday's Live Diamond Rush Training event was a motivational occasion to remember as Reina engaged the attentive crowd with his signature wisdom and wit, showing how easy financial freedom can be achieved by following Talk Fusion's proven system of success.
"Events like these are where Talk Fusion moves from the head to the heart," said Reina. "I see it in so many faces: people who finally get it, who finally realize they can escape the limitations of a traditional job and live out their dreams with an Opportunity like ours. It's an amazing feeling."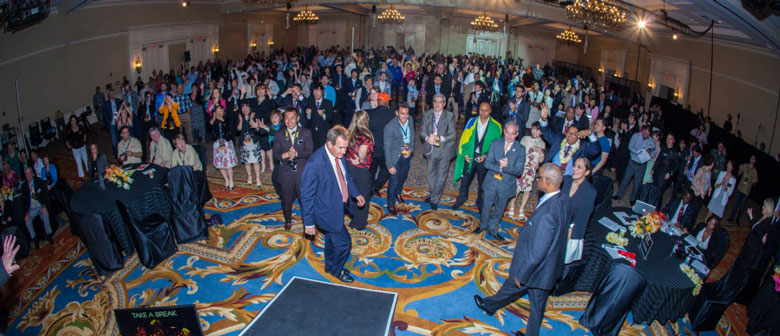 On Monday, April 7, Talk Fusion capped off the exciting IMAGINE weekend with a special Red Carpet Office Tour and Live Broadcast recap from its corporate headquarters in Brandon, Florida. Attending Associates were treated to a unique, behind-the-scenes tour of the Talk Fusion home offices while celebrating their success with a Live Broadcast to the world via the company's revolutionary 3-in-1 product, Talk Fusion CONNECT. Attendees also enjoyed live music, food and networking under a big tent outside the offices.
Talk Fusion will continue its exciting live event series when Bob Reina, Allison Roberts, VP of Field Development Rob Hukezalie and a number of the company's top leaders visit Maui, Hawaii for the company's Dream Getaway trip incentive in June; St. Petersburg, Russia in July and Surabaya, Indonesia in September for an inspirational experience entitled "Hero."
ABOUT TALK FUSION
Talk Fusion is a rapidly growing global company dedicated to changing lives through providing cutting-edge personal and business Video Communication Products and a lucrative business opportunity. Talk Fusion's innovative products are marketed person-to-person by independent Associates in more than 140 countries.
The company was founded in 2007 by CEO Bob Reina and introduced the world's first Instant Pay Compensation Plan. Talk Fusion adheres to the highest ethical business practices and is a member of the prestigious Direct Selling Association (DSA). Reina firmly believes that "with great success comes greater responsibility." To that end, his commitment to giving back has benefited numerous charitable organizations. Learn more at www.TalkFusion.com, www.talkfusiongivesback.com and www.talkfusioninthenews.com and "Like" Talk Fusion at www.facebook.com/TalkFusion.
Income Disclaimer:
Any earnings portrayed in any Talk Fusion marketing materials are not necessarily representative of the income, if any, that a Talk Fusion Associate can or will earn through his or her participation in the Talk Fusion Instant Pay Compensation Plan. All references to income, implied or stated, throughout the Talk Fusion Instant Pay Compensation Plan are for illustrative purposes only. These figures should not be considered as guarantees or projections of your actual earnings or profits. Talk Fusion does NOT guarantee any level of income or earnings to any Associate; any representation or guarantee of earnings would be misleading. The purchase of a Talk Fusion Product Package is completely optional and is not required for an Associate to participate in the Talk Fusion Instant Pay Compensation Plan.