Top Earner Terry Dorfman Back In The Game With Plexus Slim
April 25, 2014
By Team Business For Home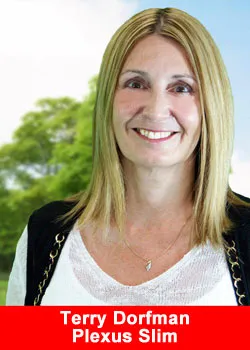 Terry Dorfman had reached the rank of Executive Director 6 in Melaleuca with a massive international downline and an amazing 5 figure monthly income.
After the improper termination of her contract with Melaleuca, she became involved with a few fairly new industry startups. While these companies offered a great opportunity for success, for some reason her level of belief was never where it needed to be. After two years of trying, it seemed she could not find that "right fit" company.
For the first time ever Terry questioned her abilities as a networker, she questioned her drive and purpose, Terry Dorfman even questioned the industry as a whole.
Terry says:
Through all the ups and downs in my life Network Marketing has always remained a constant positive force for personal growth and happiness. As a trained accountant I was first attracted to MLM for the uncomparable financial opportunity, the excitement, the freedom, and the ability to control my own destiny.
I joined my first MLM 25 years ago in Toronto, Canada and I am proud to say that I am a full time professional network marketer. I think a lot of my success and longevity stems from my genuine desire to help people achieve their goals physically, mentally, and financially. This drive to help people has kept me in the health and wellness sector of the MLM industry and to date I have been lucky enough to work with some of the finest companies in the world, selling some of the best natural health products known to man.
Helping people achieve financial freedom while becoming more healthy and vital are my greatest accomplishments in this business. As a result of this I have earned millions of dollars, worked with multiple companies, and built large dynamic teams all across the globe.
At one point in my career I reached the rank of Executive Director 6 in Melaleuca with a massive international downline and an amazing 5 figure monthly income. It was then that things suddenly took a turn for the worse. My contract with Melaleuca was improperly terminated and I suddenly found myself starting over again.
Over the years I have made some great lifelong friends who have supported me through this most difficult time and to whom I am eternally grateful. At one of our get togethers my friend, Natalie Foeller, was talking to me about this new revolutionary weight-loss product and the company behind it. Although I was convinced that my career as a networker was over I was still overweight and my health was in decline. I asked if I could try the product. After a few weeks all I could really say is, WOW!
Plexus Slim helped me lose weight, control my appetite, balance my blood sugar all while being simple and easy to take. After I had a few months of success on the product I cautiously looked into the business side of Plexus Worldwide and found a great many people making significant paychecks by simply referring customers! This confirmed what I already knew, this product works, it's a game changer, and it is just getting started.
I decided after much soul searching that I would give MLM another shot and that Plexus was the company I would do it with. I am happy to say that since joining Plexus Worldwide my faith and passion for the networking industry has been re-invigorated. With a fun, exciting, goal oriented culture coupled with ground breaking products Plexus has created an opportunity too good to pass up.
We are just entering the momentum phase of development and are enjoying a 20% month-over-month growth rate. ($30 million USD last month alone) According to our International President Alfred Peterson, we are "Poised to be a billion dollar company by the end of 2015".
I am thrilled to have finally found a company that has renewed my faith in Network Marketing and I am so excited to achieve my goals with Plexus Worldwide.