Vemma Opens New Home Office In The USA
April 11, 2014
By Team Business For Home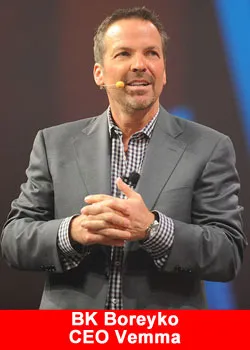 New Vemma Home Office boasts more than 51,000-square-feet of space.
Vemma Nutrition Company recently relocated and opened its new Vemma Home Office in Tempe, Arizona (1621 West Rio Salado Parkway). With more than $3.1 million in upgrades, the new, nearly 51,000-square-foot Vemma Home Office was designed to be a place where the company's over 220 valued employees and affiliates could enjoy the atmosphere and culture.
"We are pleased to be relocating our headquarters to Tempe," said BK Boreyko, Vemma Founder and CEO. "The new Vemma Home Office embodies the essence of Vemma's fun, family culture. The diversity and size of the Tempe area gives Vemma potential to expand even more in the future. I know that Tempe will be our home for many years to come."
Tempe is also home to Vemma's state-of-the-art 250,000 square foot manufacturing facility, which produces health-focused products for more than 350,000 affiliates and loyal customers nationwide.
Since its inception in 2004, Vemma has garnered over 100 industry and consumer awards including recognition as one of the state's fastest growing companies at the 2013 Arizona Corporate Excellence Awards. Over the past three years, the number of employees increased by over 66% and revenue jumped by almost 200% which resulted in the need to move to a larger facility.
The company celebrated the opening of the new Vemma Home Office with an energetic and exciting ribbon-cutting event where the company also launched its newest beverage, Vemma MoJoe. Vemma Founder & CEO BK Boreyko and Founders Karen Boreyko and Lauren Boreyko kicked off the festivities by cutting the ceremonial orange ribbon along with BK's kids, the Phoenix Suns dancers, the Phoenix Suns Gorilla, and Tempe Vice Mayor Onnie Shekerjian.
Vemma Home Office Grand Opening Party
https://www.youtube.com/watch?v=Hx2urF1AFnQ
Inside, more than 600 Vemma Affiliates and guests flooded the new Vemma Home Office to peek at the Vemma-branded conference rooms and enjoy tasty food on the open-air patio while a DJ spun pop music.
About Vemma
Founded in 2004 by BK Boreyko and his two sisters Karen and Lauren, Vemma Nutrition Company enjoyed $100+ million growth last year as one of the premier industry leaders specializing in premium liquid nutrition. Every month, thousands of new customers experience the positive difference of the clinically studied Vemma formula.
The Vemma brands include the clinically studied Verve healthy energy drink and Bod-e, a weight loss line. Vemma's new Home Office is in Tempe, Arizona and distributes its products through global affiliate marketing. For more information, please visit vemma.com.