Blyth, Inc. Reports 1st Quarter 2014 Sales – $175 Million
May 5, 2014
By Team Business For Home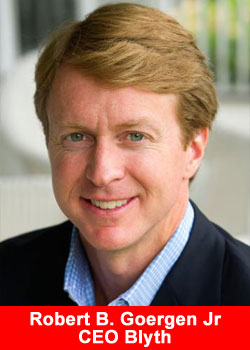 Blyth, Inc. (NYSE: BTH), a direct to consumer company and leading designer and marketer of candles and accessories for the home, as well as health, wellness and beauty products sold through the direct selling and direct marketing channels, today reported sales and earnings for the first quarter of 2014. Net sales for the three months ended March 31, 2014 decreased approximately 25% to $175.7 million from $233.1 million for the comparable prior year period.
Commenting on the first quarter results, Robert B. Goergen, Jr., Chief Executive Officer noted, While our 1st quarter results were impacted largely by ViSalus's lower level of promoters versus the prior year, we are encouraged by the fact that the March 31st worldwide promoter count marked an increase over year-end by approximately 3%, with both our new European promoters and, more importantly North American promoters, increasing during the first quarter.
This is a positive early indication of the potential success of a series of new programs implemented by the ViSalus management team to accelerate recruiting and improve retention. In addition, ViSalus continued its geographic expansion initiatives, opening both the German and Austrian markets during the first quarter, while laying the groundwork to enter three additional markets later this year.
Mr. Goergen noted further that, Within PartyLite, we're beginning to see evidence that our consultants are embracing the multi-channel approach to selling 'The Original and Best' candles, complemented by our efforts to drive product innovation with offerings like SmartScents, a spill-proof alternative to liquid reed diffuser oils and Brighter World™ Candles which benefit directly the local communities where the essential fragrance oils are sourced by supporting local education programs, sustainable agricultural practices and regional conservation efforts.
These initiatives, in conjunction with our continued focus on leveraging technology to ensure the ease of doing business with PartyLite, are facilitating our efforts to attract and retain consultants and customers. Worldwide, the low single digit consultant count declines of the past three quarters represented the most favorable year-over-year trends in the last five years.
Mr. Goergen continued, At Silver Star Brands, where we are accelerating the transition from a cataloger to a multi-channel marketer, we are also benefiting from our investments in our health, wellness and beauty products whose growth is offsetting the continued decline in general merchandise offerings. Moreover, we continue to pursue expansion of our credit program which is driving sales without compromising profitability.
Blyth's operating loss for the first quarter was $2.6 million this year versus profit of $6.0 million last year, largely driven by the decline in sales. Net Income Attributable to Blyth, Inc. was a loss of $2.8 million for the three months ended March 31, 2014 compared to income of $2.6 million in the comparable prior year period. Diluted Earnings per Share Attributable to Blyth, Inc. were a loss of $0.17 per share for the three months ended March 31, 2014 compared to earnings of $0.16 per share in the comparable prior year period.