Boresha International Expands Executive Leadership Team
May 5, 2014
By Team Business For Home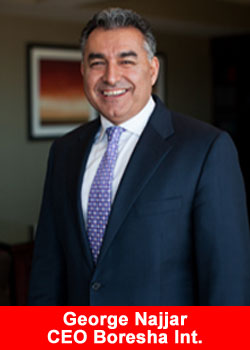 Boresha International is pleased to announce the appointment of three executives within its leadership team.
Tony Drexel Smith has been appointed to President of Boresha International, Inc. which includes membership on the Company's Board of Directors.
Marlen Otten joined the company as Vice President, focusing on marketing.
Martha McBride has been promoted to the position Vice President of Sales. Together, the three are part of a growing leadership team that reflects the company's rapid expansion.
Boresha is set to grow exponentially, so our goal is to build an infrastructure that will ensure we manage this expansion effectively, said George Najjar, Founder, Chairman and CEO of Boresha International.
Tony Drexel Smith was the interim President of Boresha from October 2013 through April 2014 and was offered a three year employment agreement. He is leading the company's strategic direction, overall corporate growth and operational plan. Tony's experience is quite unique in that he has both traditional business acumen and is a network marketing veteran.
He has consulted with hundreds of companies in business development, business plan implementation, capital funding and finance. He has been an interim executive for dozens of companies. He has more than 20 years of management experience developing and executing strategic plans in various industries.
I found a model in Boresha that I can be extremely excited about. The appointment, the Company and its products match my experience, drive, team oriented management style, and love for the individual entrepreneur, Stated Smith.
Marlen Otten joined the Boresha team as Vice President. She brings more than 13 years of experience within the health and nutraceutical industry to Boresha. Prior to joining the Company, Marlen held various management positions in the development, marketing and sales of branded ingredients and science-based innovative nutritional products worldwide. Additionally, Marlen has served in such capacities in the Network Marketing arena. Her duties will be to oversee the directors of marketing, communications, branding, product development, vendor relations, and customer service.
Martha McBride has been named Vice President of Sales and charged with developing the company's product and distributor base. With her credentials as a top ranking Personal Sales and Recruiting expert, Martha's role includes product sales, distributor training, field sales development and leader relations.
As an established sales coach and mentor, Martha worked for leading direct sales companies and top field leaders, both as a hired consultant and corporate executive. Her service to Boresha has been exemplary as she began as a Distributor, rose up the field leadership ranks, transitioned into the corporate office as the Direct Sales Coordinator, was hired as Director of Sales and was recently appointed the Vice President of Sales.
We are extremely fortunate to have Tony, Martha and Marlen on board. They possess the knowledge and expertise to help us achieve our goals, and we are delighted to have them as part of the Boresha leadership team said Co-Founder and CFO Len DiGiovanni.
All executives will be based in the Boresha, Walnut Creek, California headquarters.
Media inquiries about Boresha International can contact publicist J.Michael Palka.
ABOUT THE COMPANY
Founded in 2007, Boresha is headquartered in Walnut Creek, California. Through its partner companies Boresha manufactures, distributes and sells a line of weight management beverages and associated health and wellness products. The business is primarily marketed through a Multi-Level-Marketing (MLM) distribution model supported by 29,000 U.S.-based distributors with an expansion market with significant international opportunities.