Herbalife Comments On Pershing Square – Sponsored Advertisement
May 2, 2014
By Team Business For Home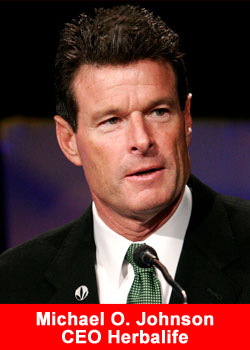 Herbalife (NYSE:HLF) a leading global nutrition company, today commented on the upcoming event hosted and sponsored by Bill Ackman and Pershing Square Capital Management. As recently confirmed by ABC News, Mr. Ackman has spent more than $20 million to date on his campaign against Herbalife.
Herbalife views the release of this advertisement posing as a documentary as nothing more than propaganda. The company believes this is yet another tactic in Mr. Ackman's calculated, coordinated and well-funded effort to destroy a 34-year old company and support his $1 billion bet against Herbalife.
We applaud Connie Chung's decision to withdraw from this spectacle. We believe the decision of an independent journalist to withdraw shows Mr. Ackman's event for what it is: misleading propaganda designed to help achieve his ultimate goal of enriching himself by driving down Herbalife's stock.
As for the event's new moderator, Robert Fitzpatrick, a self-proclaimed expert in multi-level marketing, he is a known critic of the industry, and a consultant to Mr. Ackman and three-time convicted felon and perpetrator of fraud Barry Minkow. Herbalife believes Mr. Fitzpatrick's involvement is further evidence that this documentary is merely another biased attack on our company. As such, Herbalife has not been asked to nor has any intention of participating in Friday's media event.
Since 2008, approximately 1.6 million new members have joined Herbalife in the U.S., including nearly 84,000 in the first quarter of this year alone. Studies have clearly shown that the vast majority of Herbalife members have realistic expectations and a positive experience.
The 'Gold Standard' consumer protection rules that Herbalife offers all its members not only meet, but in most cases exceed the standards prescribed by the Direct Selling Association (DSA), of which the company is a long-time member in good standing. The Gold Standard guarantees:
no minimum purchase requirements and no requirement to purchase any sales or business tools to start up or succeed;

low start-up costs and 100% 90-day money back guarantee for cost of start-up pack;

100% money-back guarantee, plus shipping costs, for all unsold products purchased within prior 12 months; and

clear, accurate and timely disclosures regarding potential income-generating opportunities in the Statement of Average Gross Compensation, which can be found here.
In addition, Herbalife requires that its members acknowledge in writing that they are aware of each of these Gold Standard Guarantees before their application is accepted.
The company has recently unveiled iamherbalife.com to highlight, in their own words, the positive impact Herbalife has had on the lives of the company's members and customers. It also shines a light on the truth behind the allegations made by Mr. Ackman and the extraordinary lengths he has gone to in order to achieve his goal of driving down Herbalife's stock price for financial gain.
About Herbalife Ltd.
Herbalife Ltd. (NYSE:HLF) is a global nutrition company that sells weight-management, nutrition and personal care products intended to support a healthy lifestyle. Herbalife products are sold in more than 90 countries to and through a network of independent members.
The company supports the Herbalife Family Foundation and its Casa Herbalife program to help bring good nutrition to children. Herbalife's website contains a significant amount of financial and other information about the company at https://ir.Herbalife.com. The company encourages investors to visit its website from time to time, as information is updated and new information is posted.