Herbalife Member Goes To Washington D.C.
May 22, 2014
By Tina Williams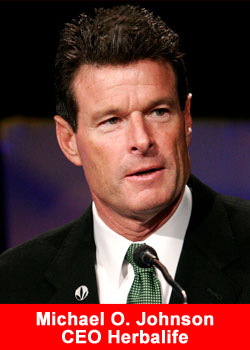 Herbalife (HLF), a leading global nutrition company, announced that today, an Herbalife Member from Illinois is traveling to Washington D.C. and meeting with her congressional representatives to ensure they understand the value Herbalife brings to thousands of its Members and consumers across the state.
Nearly 4,300 people across the state are Herbalife employees or employees of Herbalife contract manufacturers and suppliers, and in Illinois alone there are more than 15,400 independent Herbalife Members.
The Member is visiting congressional offices to showcase the broad support for Herbalife and highlight:
That Herbalife is first and foremost a nutrition company where about three-quarters of its Members joined Herbalife to receive a discount on the products they consume, and about a quarter are so passionate about it that they choose to sell the products;
Herbalife's high-quality, science-based products help people achieve a healthier active lifestyle;
Herbalife's commitment to its 'Gold Standard' Member protections, which include:
low start-up costs with no minimum product purchase requirements;
a 100% money-back guarantee for unsold inventory within 12 months of purchase and pays for the return shipping;
clear and accurate information about the business opportunity; and
a written acknowledgement of these Gold Standard protections before becoming a Member.
The potential income-generating opportunities available to Herbalife Members through hard work and continued dedication; and,
Herbalife's long-standing commitment to investing in and helping to improve the communities in which it operates throughout the nation.
Silvia Muir, an Illinois-based Herbalife member who is visiting Washington, D.C. this week, stated, "I strongly believe in Herbalife and am proud to help people achieve a healthier lifestyle by selling Herbalife's science based products. Members also know what it takes to succeed in this business – there are no shortcuts, no tricks and no gimmicks."
For more than 34 years, Herbalife has helped change people's lives around the globe, by providing the best nutrition and weight management products in the world and an opportunity for financial empowerment.
Websites
The company has also created iamherbalife.com to highlight, in their own words, the positive impact Herbalife has had on the lives of the company's members and customers.
About Herbalife Ltd.
Herbalife Ltd. (HLF) is a global nutrition company that sells weight-management, nutrition and personal care products intended to support a healthy lifestyle. Herbalife products are sold in more than 90 countries to and through a network of independent members. The company supports the Herbalife Family Foundation and its Casa Herbalife program to help bring good nutrition to children.