Jason Silverthorn Becomes A Top Earner And 5-Star Ambassador With ViSalus
May 23, 2014
By Team Business For Home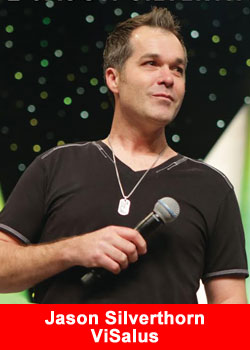 Vi Millionaire* Jason Silverthorn has recently achieved the 5-Star Ambassador rank with ViSalus. As a top earner for the company behind the #1 90-Day weight-loss and fitness challenge platform in North America, Silverthorn attributes his success to his team's collaboration and cohesion.
Our success grew at the beginning of the year when we all decided to work together, not separately, said Silverthorn. Our goal was to make this year completely different than the past. We all have backgrounds in different careers, so when we joined forces to recommit ourselves to the PROJECT 10 Challenge, we used a fresh approach and attitude. That's why we proudly called ourselves the ALL-in Team.
According to Silverthorn, being a Promoter for ViSalus was his Plan B as he was already making a living working in the mortgage and real estate business. But then I fell in love with all the ViSalus opportunities around transforming others' physical health and financial freedom. My Plan B, as a Promoter, quickly turned into my A-Game, stated Silverthorn.
ViSalus Co-Founder and Global Ambassador Nick Sarnicola stated, Jason's dedication to the PROJECT 10 Challenge and his drive for success inspire other ambitious Vi Promoters who can learn from his work ethic and dedication. We are proud to have him as a part of the Vi Family.
Silverthorn added, The ALL-in Team emphasizes the importance of building relationships among one another. We are not just partners, we are friends. We were best men in each other's weddings, we go through ups and downs together, and we experience life's firsts side-by-side because we are a pack. Silverthorn paralleled his vision with The Jungle Book author, Rudyard Kipling's saying, For the strength of the Pack is the Wolf, and the strength of the Wolf is the Pack.
Be coachable, be humble and care for people as if they are family, said Silverthorn.
As he works toward his goal of earning the Diamond Ambassador rank*, Silverthorn's advice to new Vi Promoters: Pick a direction, stay the course and never let your team down.
*Results not typical. Achievements in earnings depend upon many factors, such as hard work, determination, financial resources and social contacts.
About ViSalus ViSalus, Inc. is a healthy lifestyle company that is dedicated to Challenging the World… 10 lbs. at a Time. Founded in 2005, ViSalus develops high-quality weight-management products and nutritional supplements that it markets and sells direct-to-consumers through an international sales force of independent promoters.
ViSalus markets its products in North America under the ViSalus ® brand and in Europe under the Vi™ brand, through the Body by Vi Challenge®. ViSalus is headquartered in Los Angeles, California and Troy, Michigan and is majority-owned by Blyth, Inc. BTH -0.91% . For more information about ViSalus, please visit vi.com and follow the Vi-Community on Facebook and Twitter .