Michael Johnson – Herbalife Cashes In $13 Million in Stock Option Trade
May 12, 2014
By Team Business For Home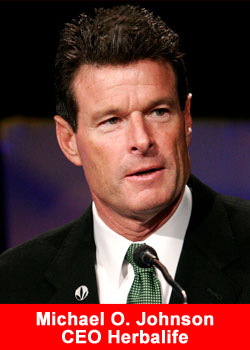 Herbalife Ltd. Chief Executive Officer Michael Johnson, who's mired in a battle with activist hedge fund manager Bill Ackman, sold stock for a profit of $13 million this week after exercising options.
Johnson purchased 250,000 shares on May 6 and 7 at an exercise price of $7.75 apiece, spending about $1.94 million, according to a regulatory filing disclosed yesterday. He then sold the shares for between $60 and $61.20 each, or about $15 million. The transaction didn't reduce the 1.1 million shares, or 1.1 percent, of Herbalife held by Johnson.
The CEO bought and sold the shares under a 10b5-1 trading plan entered into on March 4, according to the filing. On March 12, Herbalife disclosed that the U.S. Federal Trade Commission had started a civil probe into its practices following months of lobbying by Ackman, who has accused the nutrition company of operating an illegal pyramid scheme. The company has repeatedly denied his accusations.
The trading plans under U.S. Securities and Exchange Commission rules allow corporate executives to create a defense against insider trading allegations by setting up trades before they are in possession of insider information.
The 10-year options, set to expire this year if not exercised, date back to 2004, Herbalife said in an e-mailed statement yesterday. Using the 10b5-1 trading plan is standard practice and part of Johnson's personal financial planning, it said.
'Closely Aligned'
"All Herbalife executive compensation is determined by the compensation committee of our board of directors, which is comprised solely of independent directors," the statement also said. "Johnson's interests remain very closely aligned with those of Herbalife shareholders."
The company, which is based in the Cayman Islands and run from Los Angeles, makes weight-loss shakes, nutrition bars and skin creams. The stock rose 0.1 percent to $61.70 at the close in New York. The shares have declined 22 percent this year.
Johnson, who took over as CEO in 2003, earned $10.5 million last year.
Herbalife, which suspended its dividend last month to increase share repurchases, said May 7 that it had agreed to buy back $266 million of stock from Bank of America Corp.
Source: Bloomberg