Teddy Roque – ViSalus Pawning A Wedding Ring Transformed His Life
May 30, 2014
By Team Business For Home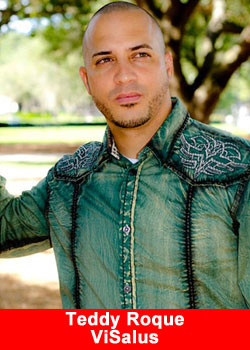 Vi Ambassador Teddy Roque used to live paycheck to paycheck, and like many people in the country, the economic crisis hit him hard.
To get back on his feet, Teddy turned to ViSalus, but he didn't have the money to sign up with the Executive Promoter System (EPS), so he did what he felt necessary. Teddy pawned his grandfather's wedding ring.
"My wife told me I was crazy, but for me, it's even crazier to live paycheck to paycheck and not do anything about it," says Teddy.
It was a tough decision because his grandfather had passed away recently and this was a very special gift. But Teddy had already lost his house and two cars, and more importantly, his youngest child needed special medical treatment due to a tumor in one of his eyes.
Giving up wasn't an option. "Vi seemed so revolutionary and innovative," says Teddy. It was a fresh start for his family, and pawning the ring was simply another indication that his grandfather was still there for him—even in spirit.
"Nobody in the family knew about the ring; my grandfather had hid it for years, says Teddy. "It's very valuable to me, and I knew I was going to get it back from the pawnshop." And he did, but it wasn't easy. Teddy signed up with the EPS because he knew he would have the right tools to promote The Challenge. Nevertheless, his first week as a Promoter was rough. He wasn't following the proven Vi system at the time.
But he didn't give up. By his second week, Teddy started following the system, put a strategy in place and set specific goals. Teddy's team began to grow little by little, and after three weeks, he returned to the pawnshop to buy back the ring. He even Challenged the pawnshop employee to take the PROJECT 10™ Challenge.
Now Teddy is an Ambassador promoting The Challenge full-time and working hard to develop his teams from California to Puerto Rico. He also spends more time with his children and continues learning from Vi's top leaders. As for the ring, Teddy states, "It's in a safe now. I'm saving it for my son.
*Achievement in weight loss depend upon many factors such as exercise, discipline and determination.
About ViSalus
ViSalus, Inc. is a healthy lifestyle company that is dedicated to Challenging the World… 10 lbs. at a Time. Founded in 2005, ViSalus develops high-quality weight-management products and nutritional supplements that it markets and sells direct-to-consumers through an international sales force of independent promoters.
ViSalus markets its products in North America under the ViSalus® brand and in Europe under the Vi™ brand, through the Body by Vi Challenge®. ViSalus is headquartered in Los Angeles, California and Troy, Michigan and is majority-owned by Blyth, Inc. (NYSE: BTH). For more information about ViSalus, please visit vi.com and follow the Vi-Community on Facebook and Twitter.