Top Industry Leader Preston Bray Joins Zrii
May 21, 2014
By Team Business For Home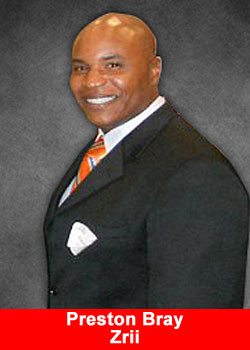 Zrii LLC today announced that entrepreneur Preston Bray of Atlanta, Georgia, USA is the latest high profile businessman to join the company as an Independent Executive.
Through hard work and duplication he has built large network marketing organizations comprised of over 20,000 members.
"Preston Bray is noted for his upbeat and energetic training style that makes him an in-demand motivational speaker. He has shared the stage with some of the best trainers in relationship marketing," says Zrii President A. K. Khalil. "We are excited to welcome him to one of the fastest growing companies in the industry."
Mr. Bray is a master of what he calls "the forbidden art of getting what you want by giving people what they need." Leveraging his domestic and international relationships with professional athletes, entertainers, and ordinary people, he has been enormously successful in shifting the mindsets and raising the financial statuses of people around the world.
He was first introduced to relationship marketing back in 2006 after his real estate business began to slow due to the declining market. While looking for a business investment or opportunity that could propel his earnings to new levels, he was approached by a complete stranger who invited him to a hotel meeting. At the meeting Mr. Bray immediately grasped the concept of selling products and opening up new business centers by sharing franchise-like opportunities with people who understand residual income and are looking for extra income and the chance to start dreaming big again.
Searching for a relationship marketing home, Mr. Bray was introduced to Zrii where he met company President A. K. Khalil and Vice President of Sales Kalin Hall. The three began talking about the future of Zrii and how the company is poised to be a legacy company – the type of company where people create life-changing income and feel safe because of the corporate leadership and because of the company's partnership with Dr. Deepak Chopra's Chopra Center for Wellbeing.
"I immediately felt the passion and connection we all shared when it came to making Zrii a legacy company filled with people who want to and will become great," Mr. Bray enthuses. "Their youth and energy matched with mine reignited my commitment to help as many people as possible achieve financial independence. With product sales being a strong focus and the right leadership coming together, I visualize Zrii being a billion dollar a year dynasty. We have been provided everything needed to build a dream home; now it's time to go to work."
Zrii was founded in 2008 with the goal of enhancing the health and happiness of people around the world through all-natural nutrition and wellness products. Zrii partners with the world-renowned Chopra Center for Wellbeing, headed by Dr. Deepak Chopra, to create premium, clean health products that promote radiant total body health. Zrii products are sold through a network of Independent Executives throughout the United States, Canada, and Latin America.