Top Industry Leaders Phil and Yuliya Mariani Join Vemma
May 31, 2014
By Team Business For Home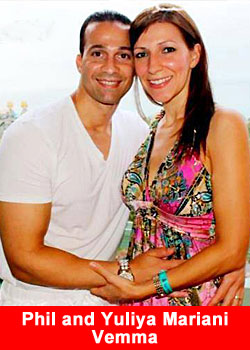 Vemma Nutrition Company is excited to welcome top MLM earners, Phil and Yuliya Mariani as some of the newest affiliates to join Vemma. Phil is a seasoned Entrepreneur and a 15-year fitness professional, and his wife Yuliya is a business consultant and social media expert.
With Vemma sales exploding from $117 million in 2012 to $221 million in 2013 and projected to reach $400 million in 2014, Vemma is attracting high caliber networking professionals who are looking for a home during these tumultuous business times.
The Marianis are excited to expand into Vemma's current markets in the US, Canada, Europe and the upcoming expansion into Latin America.
Phil and Yuliya are especially attracted to Vemma because of the company's Young People Revolution (YPR), a hugely successful movement started by Gen Y Millennials (ages 18-28) who are the new generation of business leaders looking to build their own future.
Accordingly, Phil and Yuliya are perfectly positioned for success with Vemma. They are energetic and highly motivated, each with very unique skill sets. They successfully established a 1-Star Ambassador organization in their last company and climbed the charts as top Network Marketing industry leaders.
The Marianis have teamed up with Vemma Platinum Leader, Milton Olave, an industry influencer and top speaker with Anthony Robbins, to further expand Vemma's acclaimed YPR and the older demographic who have embraced Vemma's liquid nutrition, anti-aging and weight-loss product lines.
"Vemma is a 9-year-old, proven company experiencing explosive growth globally in over 45 countries and, most importantly, is aggressively expanding into Latin America in the next few months," said the Marianis. "Our team is uniquely positioned to explode into these new markets with Vemma. We are SUPER optimistic!"
Phil and Yuliya are very excited to join the fast growing Vemma organization of Star Presidentials David and Debbie Reeder. Phil commented, "With the combination of years of massive success and top level leadership skills brought to the table by Milton Olave and David and Debbie Reeder, I have the strongest support I could possibly imagine. Yuliya and I are totally excited about our future with Vemma!"
Contact Phil and Yuliya at [email protected] or via Facebook at www.facebook.com/phillipandyuliyamarianifanpage.
About Vemma
Founded in 2004 by BK Boreyko, Vemma Nutrition Company is rapidly growing as one of the premier industry leaders specializing in premium liquid nutrition. Every month, thousands of new customers experience the positive difference of the clinically studied Vemma formula.
The Vemma brands include Verve, a healthy energy drink and Bod-e, a weight loss line. Vemma is headquartered in Tempe, Arizona and distributes its products through a global network of Affiliates. For more information, please visit vemma.com.