Top Jockey Laffit Pincay Joins 4Life
May 14, 2014
By Team Business For Home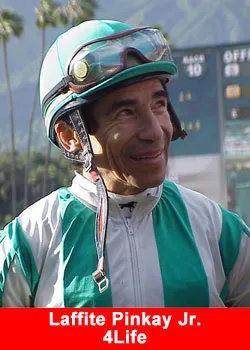 Recognized by sports commentators, athletes, and racing enthusiasts as the best jockey of all time, 4Life announces that Laffit Pincay, Jr. has joined Team 4Life.
Born in Panama City in 1946, Laffit grew up watching his father, also a jockey, race in Panama and Venezuela.
In 1966, Laffit received a prominent sponsorship to compete in the United States. In 1984, he won the Kentucky Derby and Belmont Stakes while riding his racehorse Swale. At the time of his retirement, he was horse racing's most successful jockey with 9,530 career victories.
Sportswriter Jay Privman: "I didn't get to see Babe Ruth. I was lucky enough to watch Michael Jordan a couple of times in person, but mostly just on TV. To me, Laffit belongs in that category of the pantheon of athletes that we've seen in the United States."
Last year, 4Life distributor Pedro Castañeda met Laffit while working out at the gym. Initially, Laffit was unimpressed by the idea of another vitamin. "But I'm a great believer in the immune system," he said. "When Pedro started talking about 4Life Transfer Factor, well, that got my attention."
4Life Transfer Factor Plus, Tri-Factor Formula and 4Life Transfer Factor Recall now rank among Laffit's favorite products of choice.
Actor and racehorse owner Dick Van Patten: "If there are six of the greatest athletes that ever lived, Laffit is right there with them."
Today, Laffit enjoys a spot in the National Racing Hall of Fame. One of the world's premier jockey training schools carries his name, Academia Técnica De Formación De Jinetes Laffit Pincay Jr. in Panama City, Panama. In 2005, Academy Award Winner Jim Wilson (Dancing with Wolves) produced the documentary Laffit: All About Winning. The film was narrated by actor Kevin Costner.
"I'm excited to join Team 4Life," Laffit concluded. "The group is comprised of remarkable athletes who represent a remarkable product line and company."
4Life has offices on five continents to serve a global network of independent distributors through science, success, and service.