Vemma 89% Growth – Sales Up To $221 Million
May 6, 2014
By Team Business For Home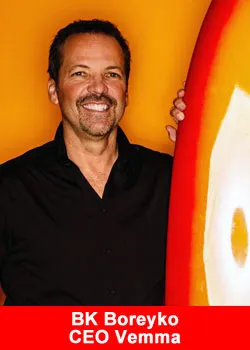 Founder & CEO BK Boreyko says direct selling recognition "signifies the path Vemma is on."
Vemma rocketed up the DSN Global 100 List in 2014 to #53, a jump of nearly 30 spots.
Up from No. 81 in 2013, Vemma climbed the ranks on the DSN's Global 100 List because of its amazing 89 percent growth, closing the year up by more than $100 million in 2014. The DSN Global 100 List is the Direct Selling Association's annual list that ranks the top revenue-generating direct selling companies in the world.
Vemma Founder and CEO BK Boreyko said he appreciates the recognition, which further signifies the path his company is on. "With our move to affiliate marketing this year, I feel we'll be able to reach an even larger audience and attract more customers than ever before.
What got us to #53 in today's marketplace won't necessarily get us to #25. We need to continue to evolve as a company and here's the bottom line, we make great products; products you can't find anywhere else," said BK. "We have an amazing and committed group of affiliates around the world that are passionate about what they do. As people realize what we bring to the marketplace, as a team, we'll continue to move closer to my goal of making Vemma a household, brand name."
In March, Vemma announced its move to affiliate marketing, similar to Amazon.com. Vemma chose to move to an affiliate marketing model because it's more customer acquisition focused and aligns with its current standards: everyone is first a customer with zero sign-up costs; customers can earn free product and product credits; Affiliates don't have to buy product to be paid; there are no renewal fees; and Affiliates have free, fully enabled ecommerce websites, free Back Office support, and the free mobile app capabilities to manage and promote their independent Vemma businesses.
To learn more about the Vemma affiliate marketing model and see what others are saying about Vemma's move, read this story.
About Vemma
Founded in 2004 by BK Boreyko and his two sisters Karen and Lauren, Vemma Nutrition Company enjoyed $100+ million growth last year as one of the premier industry leaders specializing in premium liquid nutrition. Every month, tens of thousands of new customers experience the positive difference of the clinically studied Vemma Formula.
The Vemma brands include the clinically studied Verve® healthy energy drink and Vemma Bod-e®, a weight loss line. Vemma is headquartered in Tempe, Arizona and distributes its products through global affiliate marketing. For more information, please visit vemma.com.