World Assurance Group April Revenues Surge To $1.6 Million
May 10, 2014
By Tina Williams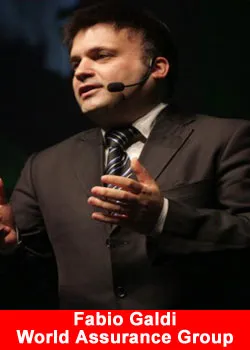 WORLD ASSURANCE GROUP April revenues surge to $1.6 million – tracking to over $3.6 million for 2nd quarter and $7.2 million for first half year
World Assurance Group, Inc.(OTC Pink: WDAS) today announces that it has completed the fund raising phase of Power Cloud 11, bringing WDAS April revenues to over $1.6 million in cash.
As part of its technology and brand license agreement, WDAS receives 10% of the set-up costs once funding is completed and a further 3% of the ongoing revenues once these Power Clouds go into production.
Funding for Power Cloud 10 was completed earlier in April and Power Cloud 11 was completed yesterday. These two Power Clouds generate $625,000 in license set-up fees and is therefore booked as April revenue along with Power Clouds 7, 8 and 9 which already have contributed $1,012,500 to April revenues. Revenues for the full quarter are forecast to reach $3.6 million and may be more than that based on the funding of the Power Clouds projects and the other licensing revenue streams. Fund
raising for Power Cloud 12 is already underway. For more information on the projects, please go to:https://www.powerclouds.com/index.php/projects/.
Mr. Fabio Galdi, Chief Executive Officer of WDAS, said, "The continued strong Power Clouds performance is not just good for the planet but also for all long term WDAS shareholders. Our various licensing agreements underpin our business model, support our share buyback policy and allows us to secure additional lucrative licensing agreements in other high growth and disruptive technologies and markets for the benefit of our shareholders over the medium and long term."
Mr. Galdi went on to say, "We are not a typical OTC penny stock and although it appears that this has not been fully understood by current shareholders and the wider market as yet, we will take whatever steps are necessary to have our share price better reflect this position, and the recent announcement of approving a 100 million share buy back from the public float is just the first step towards that mission, as we prepare the Company for ultimately listing on a national exchange as soon as that is
possible."
About World Assurance Group
World Assurance Group, Inc. is a holding company that currently operates through three wholly owned subsidiaries: Cellad Inc., a digital media company based in Ireland operating in the global mobile advertising industry. World Global Group Inc. (WGG), an intellectual property licensing company based in Miami, Florida and World Global Assets Pte Ltd (WGA), based in Singapore and which owns the Wor(l)d Global Network Pte Ltd brands, trademarks, technology and IP.
Cellad's Adkash smartphone app is revolutionary new cloud advertising platform that allows advertisers and brands to deliver high definition, full screen adverts, coupons and click-through offers to subscribers via smartphone applications. When Adkash is installed on the user phone, every time they receive an inbound call or text message, Adkash pays the subscriber a fee in the form of cash or other agreed medium.
WGG develops and acquires innovative technologies that are disruptive to existing processes. Additional information may be found at www.worldassurancegroup.com