Avon Top Earner Passed Away – Husband Rides Through The USA In Memory
June 10, 2014
By Team Business For Home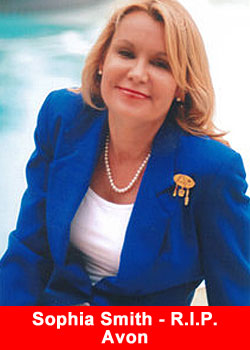 The Ride of Life is, in essence, a ride for the Yellow Rose, a ride Randy Smith is taking across the United States in memory of his beautiful wife, Sophia Smith, known nationwide as Avon's Yellow Rose.
A top saleswoman for Avon, Sophia succumbed to ALS in April of 2013 after a 28-month battle with the debilitating disease. Before she died, Avon honored this fiery executive with its first Yellow Rose Award, given to Avon leaders who demonstrate courage, strength, dignity and perseverance.
The corporate giant also created the Sophia Smith Yellow Rose pendant, donating all proceeds of its sales to the ALS Therapy Development Institute.
Avid motorcyclists, Sophia and Randy always dreamt of riding their beloved Harleys from coast-to-coast, "dipping a toe in each ocean," Randy says. Unfortunately, Sophia was never able to realize that dream because her disease progressed so rapidly.
So instead, the petite dynamo used her last months of life to give ALS a face and a voice, tenaciously speaking out about this largely unknown and under-researched disease, maintaining that "someone has to stand up and fight."
On June 1st of this year, her husband, Randy Smith; left their home in Victoria, Texas on his Harley with one mission in mind: he plans to drive his motorcycle around the entire country and raise money to have a hospice named after Sophia so she will not be forgotten.
On July 12th Avn Top Earner Lisa Wilber will be welcoming Randy for a special event behind the Avon Store in Weare to show our support for his ride and help him raise funds for this very special mission he is on.
To learn more about Randy's ride: www.rideoflife.org. To learn more about the July 12th event: [email protected] or 603-345-9466