Dr. Gary Williamson Joins Nutrilite
June 27, 2014
By Tina Williams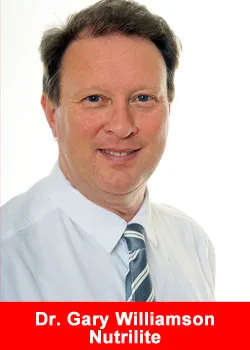 The Nutrilite Health Institute, a worldwide collaboration of experts dedicated to helping people achieve optimal health, welcomes Gary Williamson, Ph.D., to its scientific advisory board. Comprised of leading scientists in the fields of nutrition, health, and genetics, the scientific advisory board provides guidance on new and emerging nutrition science and technology, public health issues, product development and strategic direction for Nutrilite, the world's number one selling brand of vitamins and dietary supplements.
"We're honored to welcome Professor Williamson as an esteemed colleague and advisor to our board of scientific leadership," said Keith Randolph, technology strategist for Nutrilite. "He is one of the premier thought leaders in the field of food science and nutrition. We look forward to his insight to our ongoing research on the benefits of phytonutrients and other components found in plant-based foods that have a positive impact on our long-term health."
A biochemist and enzymologist, Williamson is professor of Functional Food in the School of Food Science and Nutrition at the University of Leeds, UK.
He has published more than 350 refereed scientific publications and book chapters, and is ranked by the Institute for Scientific Information (ISI) as a highly cited author in Agricultural Sciences.
His scientific discoveries include major advances in understanding dietary polyphenol bioavailability, including the structures of metabolites, their metabolic pathways and biological activities.
He is a fellow of the Royal Society for Chemistry (FRSC) and was previously editor-in-chief of the Royal Society of Chemistry journal, Food and Function, focused on the intersection of chemistry, physics and biology of food.
Williamson was awarded a prestigious European Research Council Advanced Grant for five years to work on the chronic effects of polyphenols on health. He is also a partner in BACCHUS, a collaborative project under the 7th Framework Program of the European Commission – Cardiovascular benefits from food bioactives, and the PlantLIBRA (PLANT Food Supplements: Levels of Intake, Benefit and Risk Assessment) project funded by the European Union.
About Nutrilite
Celebrating 80 years in 2014, Nutrilite exclusively by Amway is the world's number one selling brand of vitamins and dietary supplements.* Backed by 80 years of science and research, the Nutrilite team has perfected a proprietary seed to supplement practice to preserve potency and maximize the consistency, efficacy and safety of its products. Nutrilite products are developed for personal daily nutrition, heart health, strong bones and weight management. The Nutrilite brand is the only global vitamin and mineral brand to grow, harvest and process plants on its own certified organic farms*, which are located in the United States, Mexico and Brazil.
Nutrilite, Artistry, and eSpring are registered trademarks of Alticor, Inc.
About Amway
Amway is the world's number one direct selling business, according to the 2014 Direct Selling News Global 100. Founded in 1959 by entrepreneurs Rich DeVos and Jay Van Andel, and based in Ada, Michigan, U.S., Amway offers consumer products and business opportunities that are supported by a global agribusiness, manufacturing and logistics supply chain. More than 900 scientists, engineers and technical professionals work in 75 R&D and quality assurance labs worldwide to support product development and create a culture of scientific excellence. Top-selling brands for Amway are Nutrilite vitamin, mineral and dietary supplements; Artistry skincare and color cosmetics; and eSpring water treatment systems.