LifeVantage Announces Changes In Its Japan Operations
June 19, 2014
By Team Business For Home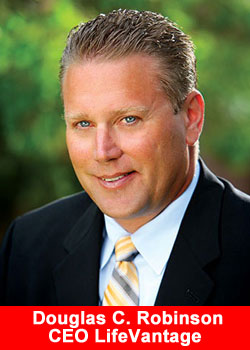 LifeVantage Corporation (Nasdaq:LFVN), a company dedicated to helping people achieve healthy living through a combination of a compelling business opportunity and scientifically validated products, today announced that it has appointed Jeffery Bean as its new Managing Director in Japan.
Mr. Bean brings 15 years of network marketing experience to LifeVantage, having worked in management positions for companies such as VISI, Stemtech International, LIV International, Synergy Worldwide and Neways, Inc. during his career. Mr. Bean will be based in the Company's Tokyo office.
Douglas C. Robinson, the Company's President and Chief Executive Officer said,
Our Japan market is very important to our overall business. We are excited to have Jeff join our team in Japan and we believe he will add a great amount of stability and value to our Japan market. Jeff brings a wealth of experience in the network marketing industry, particularly in Japan.
In addition, the Company announced that it is working on a financial arrangement with two of its top distributor leaders in Japan who are no longer participating in the Company's distributor activities.
The Company believes this arrangement will promote greater unity among its other distributor leaders in Japan.
About LifeVantage Corporation
LifeVantage Corporation (LFVN), a leader in Nrf2 science and the maker of Protandim(R), the Nrf2 Synergizer(R) patented dietary supplement, TrueScience(TM) Anti-Aging Skin Care Regimen with enhanced Nrf2 technologies, and Canine Health, is a science-based network marketing company.
LifeVantage is dedicated to visionary science that looks to transform wellness and anti-aging internally and externally with products that dramatically reduce oxidative stress at the cellular level. The Company was founded in 2003 and is headquartered in Salt Lake City, Utah.