Nerium International – Tremendous Growth In Canada
June 3, 2014
By Team Business For Home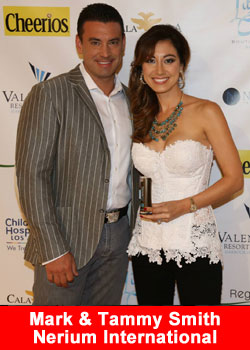 Nerium International, LLC, based in Addison, Texas launched in the U.S.A. in 2011 breaking multiple industry growth records by marketing scientifically validated skincare products that generate age-defying results. Top Earners Mark Smith and Tammy Smith have been a powerful recruiting team since Nerium's inception.
Mark O. Smith and his wife Tammy Coty Smith are from Southern California, USA. Mark is a former military and college student and turned into a multi-millionaire from home
Decades of direct selling savvy in teambuilding and sales combined with Nerium's break-through patented skincare formulations and systematic business growth have allowed Mark and Tammy to become the #1 income earners in Nerium International.
The Smith's say that what attracts incredible people to Nerium is the fact that the company focuses on personal development, living a life of contribution and building a culture with class.
Since Nerium's August 2011 launch, Mark and Tammy have achieved record-breaking sales and earned industry accolades while building millions of consumer fans along the way. They are ecstatic that the power couple is now inviting a new audience internationally in Ontario and British Columbia, Canada to join in the tremendous growth.
NERIUM INTERNATIONAL CANADA LAUNCH EVENTS
The first corporate launch events are in Vancouver and Toronto, Canada. There are thousands registered for these events already. The Smith's are headed to the Vancouver Convention Center (1055 Canada Place) in Vancouver June 6 and 7 then heading to the Allstream Centre (Exhibition Place, 105 Princes' Blvd) in Toronto June 20 and 21 with the Nerium Executive Team and Gold IMDs & Directors.