Talk Fusion Releases All-New Video Email & Video Newsletter Design Studios
June 19, 2014
By Team Business For Home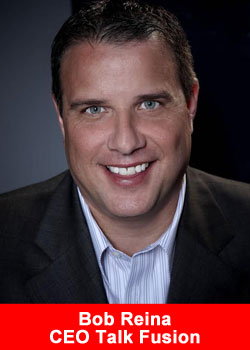 Florida-based Video Communication and network marketing company Talk Fusion recently premiered new and streamlined interfaces for its signature Video Email and Video Newsletter Design Studios.
Integral components of the company's innovative video communication product suite, these Design Studios allow Talk Fusion Customers and Associates to explore and create an endless variety of custom or pre-designed Video Email and Newsletter templates.
Using the new Video Email Design Studio, individuals and organizations alike can discover a world of beautiful branding possibilities complete with thousands of vibrant, pre-designed templates to surround their video email messages. Users can browse a variety of templates in categories including Business, Holidays, Invitations, Sports, and Travel. With a simple click on the area of their choice, users can also change their Video Email's headline banner, frame color and more.
Talk Fusion offers custom template and private labeling options for Video Emails as well. By submitting the images and color palate of their choice, users can leave the work to Talk Fusion's award-winning graphic artists as they create a stunning and personalized Video Email template. Private labeling allows users to fully brand their Video Emails with their own personal or business logo.
"We've always been laser-focused on providing new and engaging ways to build your web presence with video," said Talk Fusion Founder & CEO Bob Reina. "These new studios are a prime and proven example. Our designers and IT developers have truly outdone themselves."
The newly enhanced Video Newsletter Design Studio provides its users with a sleeker way to design and write informative email newsletters with engaging video accompaniments. With an intuitively designed interface, the upgraded Studio makes changing one's newsletter layout, images and colors an absolute breeze. Full customization and private labeling options are also available for Talk Fusion Video Newsletters.
Talk Fusion is dedicated to continually enhancing the Video Communication experience for Customers and Associates worldwide. An all-new E-Subscription Form Design Studio is coming soon with many exciting product enhancements on the way, the company reports.
ABOUT TALK FUSION
Talk Fusion is a rapidly growing global company dedicated to changing lives through providing cutting-edge personal and business Video Communication Products and a lucrative business opportunity. Talk Fusion's innovative products are marketed person-to-person by independent Associates in more than 140 countries.
The company was founded in 2007 by CEO Bob Reina and introduced the world's first Instant Pay Compensation Plan. Talk Fusion adheres to the highest ethical business practices and is a member of the prestigious Direct Selling Association (DSA). Reina firmly believes that "with great success comes greater responsibility."
To that end, his commitment to giving back has benefited numerous charitable organizations. Learn more at www.TalkFusion.com, www.JoinTalkFusion.com and "Like" Talk Fusion at www.facebook.com/TalkFusion.
Income Disclaimer:
Any earnings portrayed in any Talk Fusion marketing materials are not necessarily representative of the income, if any, that a Talk Fusion Associate can or will earn through his or her participation in the Talk Fusion Instant Pay Compensation Plan. All references to income, implied or stated, throughout the Talk Fusion Instant Pay Compensation Plan are for illustrative purposes only. These figures should not be considered as guarantees or projections of your actual earnings or profits. Talk Fusion does NOT guarantee any level of income or earnings to any Associate; any representation or guarantee of earnings would be misleading. The purchase of a Talk Fusion Product Package is completely optional and is not required for an Associate to participate in the Talk Fusion Instant Pay Compensation Plan.