It Works! Enjoys Over A 1000% Growth In 3 Years
July 17, 2014
By Tina Williams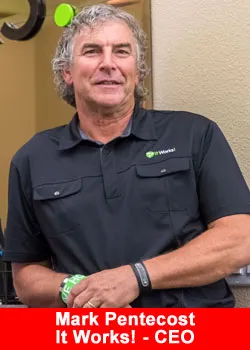 Earlier this year, It Works! ranked No. 27 of the world's top 100 direct sales companies on the DSN Global 100.
CEO Mark B. Pentecost set the goal to make the DSN Global 100 list in late 2011.
I'll never forget that day near the end of 2011 when I met with members of our team—both corporate and in the field—and we made one decision that will forever be a milestone in our company history, said Pentecost. We had one message from the top down, and we worked hard to stay focused. That is how we continued to see phenomenal growth.
Other companies recognized as part of the $100 Million Growth Club are based in the United States, Germany, Japan and the United Kingdom. This is the first time the DSN has recognized companies for their growth of $100 million in one year.
It Works! first made the DSN Global list in 2013 at No. 56 for its 2012 revenue of $200 million. The company's revenue was $456 million in 2013, and it's on track to become a billion dollar brand for over $1 billion in cumulative sales since inception in 2014.
The Global 100 is the Direct Selling Association's annual list that ranks the top revenue-generating direct selling companies in the world.
Founded in 2001, It Works! is one of the fastest-growing consumer lifestyle brands and direct sales companies. Inc. ranked It Works! No. 436 on its Inc. 500 list for 2013, and the company is enjoying a 1047-percent growth over the past three years. It Works! offers a variety of daily-use, instant-results products, including its signature and unique It Works! Wrap, a contouring product that can tighten, tone and firm any area of the body in just 45 minutes. It Works! currently offers 31 health and beauty products in 18 countries, paying commissions to more than 90,000 independent distributors worldwide.