Thirty-One Gifts Host 15,000 Attendees At Their Convention
July 27, 2014
By Tina Williams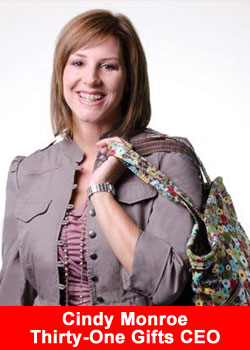 Unicorns, confetti — and three-quarters of a billion dollars in sales in the past year.
Columbus-based direct-sales powerhouse Thirty-One Gifts brought 15,000 members of its independent sales force together yesterday at Nationwide Arena with the fervor of a rock concert to celebrate a banner year and introduce products.
It served as the opening session of the company's national conference that continues through Sunday.
Cindy Monroe, the company's founder, president and CEO, fed the frenzy, strolling onto the stage and declaring "We're all really passionate — and we love to hug," drawing a roar.
Clearly, the sales force is likewise enthusiastic about its products: personalized bags and home decor, mostly sold through in-home parties. Thirty-One Gifts sales consultants held 1 million parties, served 8 million customers and reported $740 million in sales, senior staff member Anthony McIntosh told the crowd.
While the top sales consultant averaged $11,664 per month and the company's top sales team sold $2.4 million of merchandise, the typical house party sells $600 worth of merchandise, and the average item sells for $25, "which means we sell a lot of bags," spokeswoman Sara West said.
The numbers made Thirty-One Gifts the 17th-largest direct-sales company in the world, according to Direct Sales magazine. Sales during the past four years have made the business the fastest-growing company owned by a woman, McIntosh said.
Thirty-One also rolled out its fall product line, including a dozen new products, yesterday.
Among the top items: a "Bleacher Blanket" that is a combined seat cushion and blanket; the " Sling Back Bag" that comes in three colors, including a sleek black that company officials intend to market to men; an "On A Stroll Bag" that converts from a carrying bag to one that hangs on the back of a stroller or wheelchair; and a "Cross Town Wallet" that has a hidden bracelet strap that is long enough to lash around the waist.
Thirty-One also previewed some of its plans for spring, announcing that it is to have a new ordering system ready for its sales consultants' websites; several enhancements to its catalog; and even more new products, including the addition of products from sister direct-sales company Jewell as well as an expansion of its Canvas Crew bag into an entire product line.
The conference program yesterday included honors for the sales force and a tribute to Andy Neri, who recently retired as president.
"My goal is to get a last hug from everyone here," Neri said with a laugh.
A taped message from Gov. John Kasich greeted the group — "We're rolling out the pink carpet," Kasich said — and another address, from Mayor Michael B. Coleman, is to greet the crowd today.
The emphasis on doing good in addition to doing well financially was much in evidence during the opening session.
One sales consultant, Lynn Pfost of Kentucky, said she had been led to become part of Thirty-One after her son was diagnosed with leukemia and she was able to stay at a Ronald McDonald House that had been sponsored by Thirty-One during his treatment.
Another sales consultant, Sharon Lamvik of Portland, Ore., underlined the company's message of intertwining self-affirmation with charitable activities, saying after being honored for her work, " We are, after all, ordinary women with extraordinary dreams."
The direct-sales company, which takes its name from a Bible passage, is sponsoring a social-media campaign called #Share31 in which the company encourages its independent sales force to engage in random acts of kindness.
"I gave $20 to one of those homeless newspaper sellers," West said. "And we know it's going viral — I saw some people this morning who aren't with Thirty-One doing things, too."
When anyone pays for someone's parking, lunch or other unexpected act of kindness and posts to social media using the hashtag, Thirty-One will donate 31 cents to the Ronald McDonald House of Central Ohio.
The company expects to easily meet its goal of donating $10,000 to the charity, and it will donate the same amount to the same group in Denver, where it held a conference two weeks ago.