Vemma To Host First-Ever Live News Show
July 1, 2014
By Team Business For Home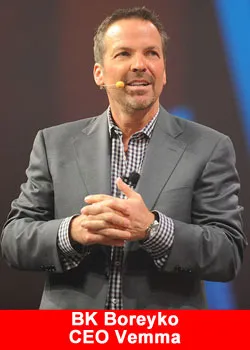 Vemma Nutrition Company will host its first-ever live news show on Tuesday, July 1st at 5:00 p.m. PDT.
Vemma Affiliates can experience the latest Vemma news in person or viastream as Vemma Founder and CEO BK Boreyko hosts the Vemma Call Live at Verve Central, located at the Vemma Home Office at 1621 West Rio Salado Parkway in Tempe, Arizona.
BK will share details about the latest Vemma happenings including an incredible new reward trip Affiliates can earn simply by growing their team; a new distribution center that will drastically cut shipping costs; an innovative website that features TV Celebrity Transformation Specialists and Vemma Bod·e Spokespeople Chris and Heidi Powell speaking directly to personal trainers, and summer business building tips for Affiliates.
More than 300 Affiliates are expected to be in attendance to watch the Vemma Call Live. Affiliates are encouraged to arrive at Verve Central in Tempe, Arizona before 5:00 p.m. Arizona time on Tuesday, July 1 to grab a spot — seating is limited.
Those not in the local area can participate by tuning into Ustream at ustream.tv/channel/vemma-call-live to watch the Vemma Call Live on their computer or mobile device. The Ustream app can be downloaded via iTunes and Google Play.
Vemma Affiliates can also listen in on the call by dialing 862-234-4720, passcode 75163000#or 712-432-5400, passcode 556556#.
About Vemma
Founded in 2004 by BK Boreyko, Vemma Nutrition Company is rapidly growing as one of the premier industry leaders specializing in premium liquid nutrition. Every week, thousands of new customers experience the positive difference of the clinically studied Vemma formula.
The Vemma brands include Verve, a healthy energy drink and Bod-e, a weight loss line. Vemma is headquartered in Tempe, Arizona, and distributes its products through a global network of Affiliates. For more information, please visit vemma.com.