Zija International Introduces Amos Borntreger As New Black Diamond Distributor
July 14, 2014
By Nicole Dunkley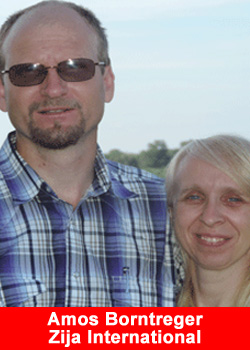 Amos Borntreger becomes Zija's newest Black Diamond Distributor, one of the top ranks in the compensation plan, and stated:
"I was introduced to Zija in 2013 and it has been a life-changing experience in terms of health and wealth!
First I would just like to thank God for this 'miracle tree,' Moringa oleifera, and for this amazing opportunity. I would also like to thank Kenneth Brailsford for stepping out of retirement and doing this again for people like us. Thank you to the Zija corporate staff for all they do every single day and for the sacrifices they make.
I just want to say a very special 'thanks' to my wife, Martha, and to my children for supporting and helping me throughout this experience. This truly would not have been possible without the help of my wife, who reaches out to the team every day. We do this as a family, sharing a vision of where we're going. Thanks again to my whole family for being in unity with this.
Many thanks to Kevin Mullens for all he does every day for our team and also to our entire amazing team; without them we would not have been able to advance to Black Diamond!
I just encourage everyone to have a vision, share that vision as much as possible, step up, step out, and do something you've never done before. Freedom does not come free— there is a price to pay—but in the process of paying the price there is sacrifice, perseverance, consistent action, personal development and becoming the person you want to be. Zija International is the company that helps average, ordinary people do above-average, extraordinary things!"
About Zija International:
Located in Lehi, Utah, Zija International develops natural, earth-friendly health, wellness, nutrition and fitness products. Zija currently operates in 50+ countries worldwide through its global family of Independent Distributors.