ARIIX Wins Distinguished Silver Stevie® Award In 2014 International Business Awards
August 26, 2014
By Tina Williams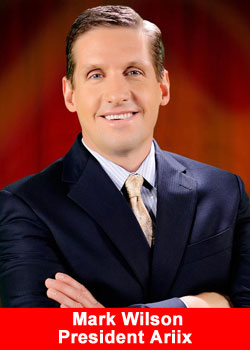 ARIIX is pleased to announce our innovative superfood supplement Moa™ as the 2014 recipient of the Silver Stevie Award for Best New Product of the Year – Health & Pharmaceuticals category.
Moa was selected from thousands of entries submitted by organizations in over 60 nations to the International Business Awards judging panel, which includes more than 250 worldwide experts and executives.
"We congratulate all of the Stevie winners in this year's IBAs," said Michael Gallagher, President and founder of the Stevie Awards. "The quality of entries we receive improves every year.

This year's judges were rewarded with the opportunity to review more than 3,500 stories of business achievement and innovation from around the world. We look forward to celebrating the winners' achievements in Paris on the 10th of October."
ARIIX created Moa as part of the Nutrifii product line, combining superfoods from all over the globe in a single nutrient-dense supplement of 95% potency – one small serving of Moa compares to competing brands' entire bottles. Moa brings together the concentrated power of 34 superfoods, providing a rich source of antioxidants, enzymes, vitamins and anti-inflammatories, all formulated to work together for maximum health benefits. To learn more, see link to Moa site.
ARIIX President Mark Wilson is honored to add the award to a growing list of corporate achievements.
He said, "Even though ARIIX is only in our third year, we are excited with the amount of recognition we continue to receive. Being one of the fastest growing companies in the network marketing industry is exciting, and receiving acknowledgement for our premier quality, for an unprecedented commitment to our Representatives, and for a fresh approach to a proven buisness model positions us well for many more years of record growth."
About ARIIX
ARIIX is a premier health and wellness company using the latest science to create leading-edge nutritional and body care products. The company was born from the shared vision of leaders in business and nutritional science, who united to create a unique company based on the Golden Rule of helping others unleash their potential for good.
ARIIX stands out with a blend of global vision, superior industry experience and leadership, wellness products of unparalleled quality, and a shared philosophy that helping one person thrive helps the whole community. The company currently operates in the United States, Canada, China, Hong Kong, Japan, Taiwan, Singapore, Mexico, Russia, Kazakhstan, Australia, the Netherlands and Portugal.