Cala Stadel Is Xyngular's Second Million Dollar Earner
August 21, 2014
By Tina Williams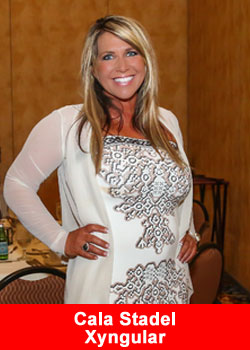 Xyngular recently announced their second million dollar earner, Cala Stadel. In an interview, Cala shares with Xyngular the secrets to her success:
My journey started 4 1/2 years ago with a phone call from Jill Yacobucci. Actually 8 calls. (Thank you for not giving up on me Jill!) I had seen success in the industry before but had to walk away when I realized that the dream I was selling just wasn't attainable for everyone.
I do everything from my heart, so I couldn't bring people to the table unless I knew that they could succeed financially. Jill told me that Xyngular's health and weight loss products really work and that the pay plan is designed to allow the average person to really make money!
I needed all of the above! I needed another income stream because all of our eggs were in one basket. The economy was down and I have 7 kids to feed. Treating them to a meal out wasn't even an option. I was overweight and overwhelmed and I needed a way to make an income.
I took the plunge. I knew lots of people who needed energy, stress relief, and/or weight loss and I also knew that there was a money back guarantee. If the products didn't work then I would get my money back! So I bought 6 kits and started talking to people right away. I told people do this with me, I think it's going to be big!
My friend and neighbor, Brandee Clark, had a special event to go to that weekend so she started on the products right away. And I called Jayna Dyer, she wanted to try the products but she wasn't interested in the business. But a few months later everything changed for her and she needed the income too!
Freddy Elias called me on August 11th and told me to try the Ignite program. I was already making money and feeling great but I lost 13 pounds during those 8 days. Then it was 24 pounds in a month, 44 pounds in 90 days, and ultimately 80 pounds in 6 months! I went from a size 22 to an 8!
I had used the products and seen great success but didn't realize how much until I received an email from Jordan Freeman. It was before and after pictures, side-by-side. I was so embarrassed by how I looked in my before picture I almost deleted the email. But instead, I decided to share my story and make a million dollars!
And guess what? That' s exactly what happened! I knew that if that could happen for me in 90 days it would give anyone hope.
People sometimes call the kits the red box or the blue box, but what I call it is the box of hope! Because you never know what's actually going to come out of there. I believe God sets us up thinking we want to lose a few pounds and have some more energy but opening that box can open you up to a whole new life! The Xyngular way of life! A whole new hope and ability to dream again!
My kids are able to go to college without student loans and we take fabulous family vacations. But more importantly, we are making memories together because I'm no longer missing those special moments. Thank you Xyngular. And thank you President and friend Marc Walker! My six girls and one boy get to see a healthy, happy, motivated mother. A mother who sets goals and achieves them because I know anything is possible. Xyngular has given me my life back. I am one blessed women!
Do more so you can have more and be more and ultimately you can give and serve more!
Xyngular is a health and wellness leader and the creator of the groundbreaking 8-day Ignite Fat Burning System and 30-day Ultimate Transformation System. Xyngular is also the maker of Spryng™ Natural Energy Beverage, Lean Protein Smoothie, Axion™ Daily Nutritional Support and an innovative array of complementary products designed to provide superior nutrition, sustained weight loss, increased energy, enhanced mood, and an overall feeling of wellbeing.
Xyngular was founded in 2009 and is headquartered in Lehi, Utah.