JM Ocean Avenue Announce Appointment Of New CEO And CFO
August 18, 2014
By Tina Williams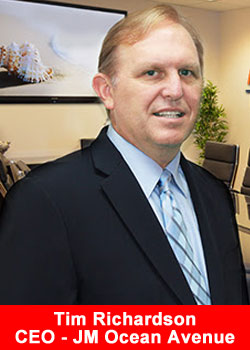 JM Ocean Avenue announced the appointment of a new CEO and CFO.
Tim Richardson has been appointed as the new Chief Executive Officer of JM HK and a Member of the Board of Directors, Tim has also been named the Chief Executive Officer and President of JM OA, Inc. Both assignments are effective immediately.
As JM Ocean Avenue opens this new chapter, characterized by global expansion and an even greater focus on the success of our Distributors, the Board is confident that Tim is the right person to lead the company forward and we are pleased that he has joined us." Joe Zhou, Chairman of the Board
Mr. Richerson brings 30+ years of vast and varied experience that includes consumer, financial and web based companies both in the public and private sector. Most recently as a Director of the Burnham Financial Group, a current Partner in GT Development and a Partner in a private web based auction business. Also from 2003—2008 Mr. Richerson formed the Alan James Group, LLC with a partner where they acquired a group of consumer product brands from Boehringer Ingelheim.
He then built the Alan James portfolio of well-known brands consisting of over 30,000 food, drug, mass and warehouse club retail distribution outlets. The Alan James Group was acquired by Interleukin Genetics in 2006 (majority owned by Alticor Inc.). Mr. Richerson was named Interleukins CEO and continued to consult for Alticor through 2013.
From 1997 – 2002, Mr. Richerson was with Rexall Sundown Inc., a NASDAQ listed company. In the 5 years with Rexall Sundown Inc., Mr. Richerson served as the General Manager as well as the company President. During his tenure Rexall's revenues grew from $100M to over $700M. Mr. Richerson also served as a member of the Numico North American Executive Management Committee that oversaw all Numico U.S. holdings, which included: General Nutrition Centers (GNC), Rexall Sundown and Unicity Direct Selling.
Prior to this, he was with Playtex Products, Inc. for 10 years, where he held positions as Vice President of Sales in the Consumer Products Division and Vice President of Trade Marketing. Playtex, at the time, was owned in part by T. H. Lee Partners and eventually went public on the NYSE in 1995. Tim is also a prior member of YPO, (Young Presidents Organization).
"He has a proven ability to create strategic clarity, ensure disciplined execution, and deliver results. We believe that his passion for both this business and our Distributors will ensure that JM Ocean Avenue continues to have a positive impact on people's lives." Jackie Zhang, Vice Chairman
With the addition of Tim Richerson, JM Ocean Avenue's Board of Directors consists of Joe Zhou-Chairman of the Board, Jackie Zhang-Vice Chairman, Bruce Fang-President and Fred Ninow, Chief Sales Officer.
JM Ocean Avenue is also pleased to announce the appointment of Elsa Sung as Chief Financial Officer, effective immediately.
Ms. Sung comes to JM Ocean Avenue with a wealth of experience in budgeting and planning, financial reporting, auditing, accounting systems, and business operations. She joined the Company in January 2014.
She is a founding member of Metis Limited, a boutique consulting firm specializing in providing outsourced accounting, finance and operational services to companies located in the greater China area. From June 2007 to January 2013, Ms. Sung was Vice President and Board Director of CFO Oncall, Inc. During her tenure, she led the firm's Client Services Division in China and developed the firm's strategic plans for its China operations. Ms. Sung also served as Chief Financial Officer for Jiangbo Pharmaceuticals, Inc. a Nasdaq (Global Market) listed pharmaceutical company with operations in China, from November 2007 to March 2011.
From 2002 to 2007, she held positions of increasing responsibility as a Senior Auditor for Ernst and Young, LLP, and as Senior Internal Auditor for Applica Consumer Products, Inc., a publicly traded company. She also served as Audit Manager for Sherb and Company, where she was responsible for providing assurance services to public companies located in China.
Ms. Sung holds an MBA in Finance and Accounting and a BS in Accounting from Florida Atlantic University. She also holds a BS in Sociology from National Chengchi University in Taipei, Taiwan.
"We welcome Elsa to the JM Ocean Avenue Management Team as we move towards our next phase of growth. Her broad range of experience and her expertise in China and the Americas will be critical in the execution of our strategic initiatives and we look forward to working with her," Tim Richerson, CEO.
Ocean Avenue and JM International sign merger to create world-class direct sales partnership and expand to 26 international markets.
Strategic collaboration will create industry-leading opportunities for distributors in new markets around the world and accelerate delivery of products to customers.
June 5, 2014, Ocean Avenue and JM International, both multi-national direct sales companies, today announced a merger to create opportunities for distributors and customers by expanding to over 25 new markets around the world this year, offering a broader and deeper range of products and increasing sales. The venture, JM Ocean Avenue, is collaboration between two companies whose combined strengths will result in a global company able to produce and deliver innovative products through a superior and far-reaching global distributor network.
The merger will carry forward objectives shared by Ocean Avenue and JM International: providing solutions with cutting-edge technology for healthy living and building a business platform for distributors to achieve health, happiness and freedom— both financial freedom and freedom to travel around the world.
About Ocean Avenue
Ocean Avenue LLC, founded in 2012, is a U.S.-based network marketing company operating with more than 20,000 distributors and customers in 10 countries worldwide. It sells a unique line of nutritional and healthcare related consumer products. Ocean Avenue was founded on the principles of innovation in business and strengthening the core values of family and community.
About JM International
JM International, currently operating based in China and had expanded market to nearly 20 countries and regions around the world, is a hub for cutting-edge research and development and offers a wide range of healthcare related consumer products. With sales of more than $2 billion, the company has been named to China's Top 500 Most Valuable Brands for several years. The company is committed to conducting business in a manner that reflects a concern for social welfare and public responsibility.