Talk Fusion Gives Associate Freedom Of Expression
August 5, 2014
By Team Business For Home International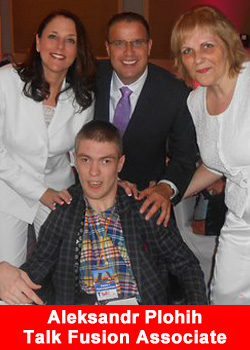 As inviting as the "working from home" concept is for many people, for others it is literally the only solution for them to earn income.
Alexander Plokhih was born in Arkhangelsk, Russia with infantile cerebral palsy on April 2, 1992. His condition was so severe that he could not speak; in fact, he could not even sit up.
"Thanks to my parents my physical status finally became better," Alexander recalls. "I had special treatment including two serious surgeries. I finished special school for disabled children. I wanted to continue my education but our educational institutions have no facilities for people such as me. I couldn't receive full time education."
Alexander was determined, however, and took it upon himself to complete computer training courses and became a programmer. Even this accomplishment proved insufficient to help his family deal with his mounting medical bills.
"My invalidity pension is very small, so I worked as a moderator and web-designer. But my father told me that I would never earn enough money in that line of work."
Alexander sought out Relationship Marketing Companies that would allow him to work from home, but met with constant rejection due to his illness. Then he found out about Talk Fusion.
"In that moment, my life changed."
With his programming background, Alexander developed an immediate appreciation for Talk Fusion's video communication products and the technology behind them. Accepted and encouraged, Alexander used the same determination that got him through computer training to learn to share Talk Fusion and embrace the opportunity.
Alexander now sends out Video Email to his team daily, promoting the business and sharing his positive mindset. Talk Fusion's Instant Pay Compensation Plan gives him the ability to earn the money needed to pay for his medical care and support himself and his care.
Alexander serves as an inspiration not only to his team but others with disabilities as well. He attends Corporate Events and Opportunity Presentations in Russia and has drastically improved his vocal skills; he now speaks Russian and is using his trademark willpower to learn English.
"My goal is to become Diamond and go to Hawaii in December," he says. "I thank our Founder & CEO Bob Reina and Talk Fusion for giving me the chance to really express myself."
Given his determination, there is little doubt that come December, he will be sharing his story in person with other Associates at Talk Fusion's Dream Getaway in Maui.
ABOUT TALK FUSION
A global leader in Video Communication Products, Talk Fusion is dedicated to changing lives through unmatched life-sharing solutions provided by proprietary, patent-pending video technology.
Talk Fusion's innovative products are marketed person-to-person by independent Associates in more than 140 countries.
Founded in 2007 by CEO Bob Reina, Talk Fusion introduced the world's first Instant Pay Compensation Plan. Talk Fusion adheres to the highest ethical business practices and is a member of the prestigious Direct Selling Association (DSA). Reina firmly believes that "with great success comes greater responsibility."
Talk Fusion fosters a strong commitment to Giving Back to friends, family, communities, and animal charities across the world to produce a positive global change. Learn more at www.TalkFusion.com and "Like" Talk Fusion at www.facebook.com/TalkFusion.
Income Disclaimer:
Any earnings portrayed in any Talk Fusion marketing materials are not necessarily representative of the income, if any, that a Talk Fusion Associate can or will earn through his or her participation in the Talk Fusion Instant Pay Compensation Plan. All references to income, implied or stated, throughout the Talk Fusion Instant Pay Compensation Plan are for illustrative purposes only. These figures should not be considered as guarantees or projections of your actual earnings or profits. Talk Fusion does NOT guarantee any level of income or earnings to any Associate; any representation or guarantee of earnings would be misleading. The purchase of a Talk Fusion Product Package is completely optional and is not required for an Associate to participate in the Talk Fusion Instant Pay Compensation Plan.