Trévo Life And Health Coach Earns Personalized Diamond Ring
August 26, 2014
By Nicole Dunkley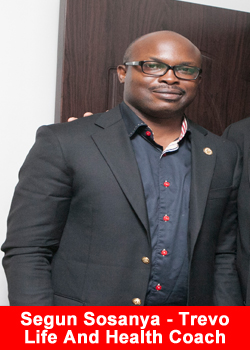 In only three and a half years Trévo has gone global in over 11 countries. This past June, Segun Sosanya advanced to White Diamond ranking – the first level of the fourth and final tier in the Trévo recognition pool.
Cash bonuses, vacations and owning a luxury car are only a few perks of moving up in rank at Trévo, a nutritional supplement company.
Segun is celebrated for his accomplishments and outstanding passion to excel, for that he has received a personalized, custom-made Trévo diamond ring through the recognition program by CEO Mark Stevens. The two tone white and yellow gold men's and women's rings are custom designed and manufactured in the United States which feature pavé diamonds surrounding a hand cut onyx stone from Europe with a beautiful Trévo leaf accent.
Segun has also received a Global Pool Bonus of $45,000 USD for the month of June, on top of his total income.
Segun has been a Life and Health Coach since February 2012 and said that people have become incredibly inspired when they hear his life story of coming from nothing to being ranked at the top of the business globally.
"The most rewarding part of attaining the White Diamond ranking is the joy and hope I have seen in every Life and Health Coach that has been struggling with their business," Segun said. His main advice is to "use what works for you, there is no definite path to success in this business, but that you'll need to be creative."
Mark and his wife, Holli, are so excited to see such strong leadership in Trévo. "The achievement of moving into the Diamond ranking is a huge accomplishment. Segun has been consistent and persistent in the pursuit of helping others discover how Trévo can transform their lifestyle. We are so grateful to him for helping us build Trévo into the next billion-dollar brand! The price of success, is being willing to do whatever it takes, for as long as it takes, until you reach your goal."
ABOUT TRÉVO
Trévo's Founders are Mark and Holli Stevens who have a proven track record of over 16 years as owners of a successful network marketing company. Mark and Holli have also been on the "other side of the table" as independent representatives, building organizations with tens of thousands of members. This dynamic duo also possess nearly four decades of combined business ownership expertise.
Trévo's proprietary blend of over 174 premium nutraceuticals, including maqui and acai berries, mangosteen, amalaki fruit, gotu kola, ashwagandha and a cornucopia of other fabulous nutraceuticals. In fact, Trévo has developed the only nutritional supplement in the world to combine and harness the power of such a remarkable array of vitamins, minerals, "supergreens," antioxidant-packed fruits and vegetables, coral calcium, and herbs from around the globe.
Based in Oklahoma, USA Trévo LLC is powered by a global network of many thousands of energetic and excited Life and Health Coaches.