Trévo Welcomes New Dubai Country Director
August 7, 2014
By Nicole Dunkley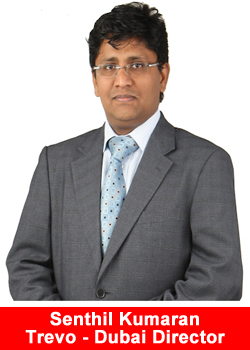 Please join us in welcoming Senthil Kumaran to the Trévo global family. Senthil has recently joined our team as the new Dubai Country Director, and we believe his expertise, leadership and experience working in network marketing will be integral in taking Trévo Dubai to the NEXT Level of Success.
Senthil was born and raised in Bangalore, India. He came to Dubai in 1998 as a marketing manager for the Middle East countries where he was responsible for business development across 19 countries. He won three consecutive excellence awards from the government of Dubai, where he worked for 10 years. He has also acquired his Bachelor of Business Administration and Master in Business Management and Marketing in Dubai.
Senthil has trained over 10,000 professionals in his 26 years of experience in the corporate world.
One of Senthil's many proud moments in his life so far was in 2011 when more than 10,000 networkers cheered for him when he took his parents on stage and received their blessings while being recognized as the first 10-star worldwide achiever, meaning he earned $50,000 USD in one week. I thank God I still have both my parents, he said. His younger brother and family work in the USA and he has two children.
Senthil wants to create one of the biggest and best network marketing teams in the world. I want to achieve the status of the number one network marketing leader in the world who changed the lives of millions. Together we can change the lives of people by improving their health by using our great product, Trévo.
When Senthil was asked what his biggest obstacle was in getting to this stage in Trévo he responded by saying he doesn't believe in obstacles. Everything in life is an experience and my success can never be stopped by others.
ABOUT TRÉVO
Trévo's Founders are Mark and Holli Stevens who have a proven track record of over 16 years as owners of a successful network marketing company. Mark and Holli have also been on the "other side of the table" as independent representatives, building organizations with tens of thousands of members. This dynamic duo also possess nearly four decades of combined business ownership expertise.
Trévo's proprietary blend of over 174 premium nutraceuticals, including maqui and acai berries, mangosteen, amalaki fruit, gotu kola, ashwagandha and a cornucopia of other fabulous nutraceuticals. In fact, Trévo has developed the only nutritional supplement in the world to combine and harness the power of such a remarkable array of vitamins, minerals, "supergreens," antioxidant-packed fruits and vegetables, coral calcium, and herbs from around the globe.
Based in Oklahoma, Trévo LLC is powered by a global network of many thousands of energetic and excited Life and Health Coaches.
To learn more about Trévo, please visit trevocorporate.com.