ViSalus Honored With Kaltura Innovation Award And Four Telly Awards
August 1, 2014
By Tina Williams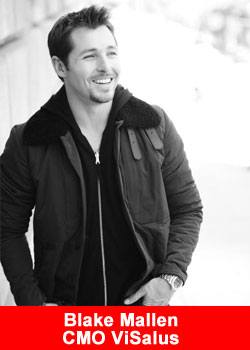 ViSalus, Inc., the company behind the #1 90-Day weight-loss and fitness challenge platform in North America, took home a Kaltura Innovation Award for 'Best Designed Video Experience' for the release of their Vi-Net Pro application as well as four coveted 2014 Telly Awards for excellence in video production.
The Kaltura Innovation Awards celebrate cutting-edge and exciting applications of video, and recognized ViSalus as their 2014 'Best Designed Video Experience' at Kaltura Connect, The Video Experience Conference held June 16-18 in New York City. Kaltura Connect remains at the forefront of video technology and acknowledged the Vi-Net Pro application as an innovative and premier mobile experience.
The company, whose mission is built around challenging others, took on its own Challenge and competed against 12,000 worldwide entries at the 34thAnnual Telly Awards— and won. For over a quarter century, the Telly statuette has been recognized as the premier award honoring the finest film and video productions, groundbreaking web commercials, and outstanding local, regional and cable TV commercials and programs.
ViSalus was honored with four Telly statuettes in the categories of: Online Video, Infomercial, Sales Program, and Live Event Segment.
"We love to innovate at Vi, and we are proud of creating and producing the highest quality programming showcased in our recently enhanced Vi-Net Pro application," said Vi Co-Founder and CMO Blake Mallen. "We aim for excellence in all facets of our business from our products to our support systems and are humbled to have ViSalus honored for our endeavors.
When our amazing team of developers combines innovation with creativity our entire network has an experience unlike anything else," said Mallen. "It gives our Promoters quick access to high quality video content right in the palm of their hand with up-to-date information and tools accessible at anytime, anywhere in the world."
About ViSalus
ViSalus, Inc. is a healthy lifestyle company that is dedicated to Challenging the World… 10 lbs. at a Time. Founded in 2005, ViSalus develops high-quality weight-management products and nutritional supplements that it markets and sells direct-to-consumers through an international sales force of independent promoters.
ViSalus markets its products in North America under the ViSalus® brand and in Europe under the Vi™ brand, through the Body by Vi Challenge®. ViSalus is headquartered in Los Angeles, California and Troy, Michigan and is majority-owned by Blyth, Inc.