Avon Makes List Of 100 Best Companies For Working Mothers
September 23, 2014
By Tina Williams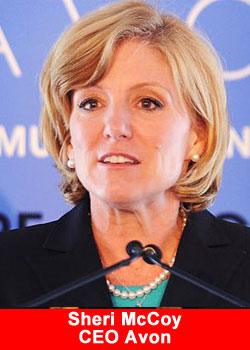 Working Mother magazine named Avon Products, Inc. as one of the 2014 Working Mother 100 Best Companies for outstanding leadership in establishing policies, programs and corporate culture that supports working moms, including child care, flexible work arrangements, paid parental leave and advancement of women. Companies are also measured on access to and usage of family friendly programs.
"At Avon, we're committed to giving all of our Associates, including our working parents, the support and flexibility they need to succeed," said Sheri McCoy, Chief Executive Officer of Avon Products, Inc.
"As a working parent myself, I know first-hand the balancing act that's required to have a successful family and professional life."
Carol Evans, president, Working Mother Media said, "The Working Mother 100 Best Companies are the leaders in the advancement of women by supporting their need to integrate family and work successfully. We are thrilled to honor the U.S. companies that put words into action and build family-friendly cultures on the foundation of thoughtful policies and effective programs.
Women now make up 50% of our workforce. We need to make sure they have the support to be outstanding moms as well as great employees.

Jennifer Owens, editorial director of Working Mother Media, noted, "In its 29th year, the Working Mother 100 Best Companies are a powerful reminder of how great companies can and do create supportive workplaces for their employees. All employers would do well to follow their lead if they want to attract and retain top talent."
In honor of the 100 Best Companies, Working Mother has declared Tuesday, October 21st as National Flex Day to increase awareness for the importance of workplace flexibility. All companies are invited to participate by encouraging all employees to use flex policies on this day.

About Avon
Avon, the company for women, is a leading global beauty company, with $10 billion in annual revenue. As one of the world's largest direct sellers, Avon is sold through more than 6 million active independent Avon Sales Representatives. Avon products are available in over 100 countries, and the product line includes color cosmetics, skincare, fragrance, and fashion and home products, featuring such well-recognized brand names as Avon Color, ANEW, Skin-So-Soft, Advance Techniques, and mark.

About Working Mother Media
Working Mother Media, a division of Bonnier Corporation (bonnier.com), is the publisher of Working Mother magazine and its companion websiteworkingmother.com, and is home to the Working Mother Research Institute. The National Association for Female Executives (nafe.com ) and Diversity Best Practices (diversitybestpractices.com) are also units within WMM. Working Mother Media's mission is to serve as a champion of culture change. Working Mother magazine is the only national magazine for career-committed mothers.