Blyth And ViSalus Founders Complete ViSalus Transaction
September 5, 2014
By Team Business For Home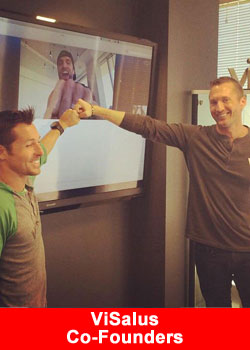 ViSalus and Other Preferred Shareholders Now Own Approximately 90% of ViSalusTransaction Extinguished 2017 Redemption Obligation
Blyth, Inc. today announced that it and the Founders and certain other preferred stockholders of its ViSalus network marketing subsidiary have completed the exchange of all of the Redeemable Convertible Preferred Stock of ViSalus for shares of ViSalus Common Stock.
On September 2, 2014, Blyth had announced that it and ViSalus's Founders had reached an agreement in principle to effect the exchange which reduced Blyth's ownership interest in ViSalus from 80.9% to approximately 10%, and increased ViSalus's Founders and its other preferred stockholders ownership from 19.1% to approximately 90%.
In addition, the transaction extinguished the obligation of ViSalus to redeem the ViSalus Redeemable Convertible Preferred Stock on December 31, 2017 for an aggregate price of $143.2 million which obligation had been guaranteed by Blyth.
In connection with this transaction, Blyth amended the indenture governing its 6.00% Senior Notes due 2017 to provide for the mandatory redemption of the Senior Notes on the earlier of March 4, 2015 and the date, if any, that Blyth consummates a new financing. Cowen and Company, LLC acted as exclusive financial advisor to Blyth in connection with such amendment.
In addition, as a result of its reduced ownership in ViSalus, Blyth will no longer consolidate its results in Blyth's financial statements; rather, its investment will be reflected utilizing cost method accounting treatment.
Blyth, Inc., headquartered in Greenwich, CT, USA, is a direct to consumer business focused on the direct selling and direct marketing channels in twenty-one countries. It designs and markets candles and accessories for the home through the direct selling channel as well as health, wellness and beauty products, household convenience items and personalized gifts through the catalog/Internet channel.
Its products are sold direct to the consumer under the PartyLite® brand and to consumers in the catalog/Internet channel under the Miles Kimball®, Walter Drake®, Easy Comforts®, As We Change® and Exposures® brands.
Blyth, Inc. may be found on the Internet at www.blyth.com.
SOURCE Blyth, Inc.