Morinda Announces Enhancements To Company's Area Developer Program
September 20, 2014
By Tina Williams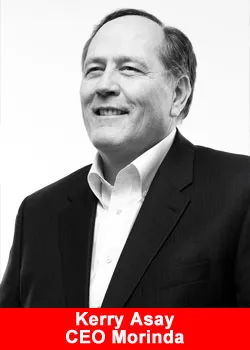 Morinda, a leader in the network marketing industry for nearly two decades, has enhanced the company's existing Area Developer Program—adding new payouts, title positions and team bonuses to the already popular expansion and commissions program.
The enhancements, announced at the company's recent Vision Retreat event in Kauai, Hawaii, are aimed at driving new growth and expansion for a company that has created 250 millionaires as part of its compensation plan over the past 18 years.
The Area Developer Program's enhancements include the implementation of the Area Developer Title Bonus, which gives program participants the chance to earn another bonus of between $5,000 and $25,000 in 2015 based on qualification; the ability to obtain additional payout positions in the existing Area Developer compensation plan; as well as the opportunity to help business partners earn hundreds of dollars in team bonuses. Perhaps most intriguing is the capability that business builders now have to earn double income from one singular business.
The upgrades we have made to the Area Developer Program show just how committed we are to offering the best financial solutions for today's entrepreneur and network marketer, said Shon Whitney, Morinda's Vice President of Sales and Marketing. Individuals looking for a profitable and duplicable business model that provides equal opportunity to see prolonged success have it with our Area Developer Program.
The existing Area Developer Program emphasizes increasing one's organizational volume incrementally in specific geographic target areas over previous volume and production during specific time periods. When this is accomplished in multiple qualified geographical locations, the business builder is considered an Area Developer in each of those regions and is entitled to the Area Developer bonuses every time they qualify.
The program has been met with rave reviews from industry experts and has created a firestorm of activity among Morinda business builders.
The Area Developer Program in itself sets up any entrepreneur for immediate financial success, said Morinda distributor, Dapo Odusanya. The new additions to the program are creating huge momentum. It's definitely an exciting time to be associated with Morinda.

About Morinda
Founded in 1996, Morinda is a global, research-driven company with a mission to use the power of nature to help people live healthier, longer lives. Cutting edge technology and extensive research have allowed Morinda to develop an innovative TruAge product line, as well as other natural wellness products that reflect its passion to help people live younger, longer. Morinda is headquartered in Provo, Utah, and has a presence in more than 70 countries worldwide.