Talk Fusion Concludes Successful HERO Event In Indonesia
September 15, 2014
By Nicole Dunkley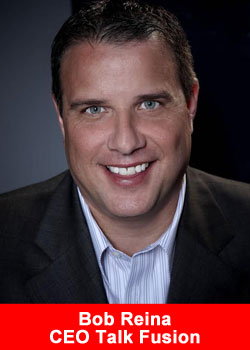 Florida-based Video Communication and network marketing company Talk Fusion announced the successful conclusion of its sold out, international HERO Event held on September 6 – 7 in Surabaya, Indonesia. Celebrating the year-long success of Talk Fusion's Indonesian Associates, HERO featured networking, inspiration, and success stories from Top Talk Fusion Leaders from across the world. Talk Fusion Founder & CEO Bob Reina, who was the event's Key Note Speaker, delivered a motivational speech that brought the standing room only crowd to its feet.
"Do you know how many people in their lives have stopped dreaming? You can see them every day when you walk around," Talk Fusion Founder & CEO Bob Reina told the audience of Associates. "They're unhappy, they have their heads down; they don't have belief in themselves. But you can give them a new meaning. It would be my hope, when you leave here, that your dream goes from 'big' to 'much bigger.'"
In addition to motivational training, awards ceremonies, and Associate Recognition, the HERO Event was host to high-energy dance-offs, a "Mercedes Madness" Parade through the streets of Surabaya, and a Luxury Car Block Party, which was referred to as the "million dollar parking lot." The HERO Event concluded with a black-tie Diamond Dinner held at the Supermal Convention Center, host venue for the weekend convention.
The success of the Event sets the tone for Talk Fusion's upcoming international Leader Tours and the huge, corporate CHANGE Event on March 27-30, 2015 in Tampa, Fla.
About Talk Fusion
A global leader in Video Communication Products, Talk Fusion is dedicated to changing lives through unmatched life-sharing solutions powered by proprietary, patent-pending video technology. Talk Fusion's innovative products are marketed person-to-person by independent Associates in more than 140 countries.
Founded in 2007 by CEO Bob Reina, Talk Fusion introduced the world's first Instant Pay Compensation Plan. Talk Fusion adheres to the highest ethical business practices and is a member of the prestigious Direct Selling Association (DSA). Reina firmly believes that "with great success comes greater responsibility."
Talk Fusion fosters a strong commitment to Giving Back to friends, family, communities, and animal charities across the world to create a positive global change. Learn more at www.TalkFusion.com and "Like" Talk Fusion at www.facebook.com/TalkFusion.
Income Disclaimer:
Any earnings portrayed in any Talk Fusion marketing materials are not necessarily representative of the income, if any, that a Talk Fusion Associate can or will earn through his or her participation in the Talk Fusion Instant Pay Compensation Plan. All references to income, implied or stated, throughout the Talk Fusion Instant Pay Compensation Plan are for illustrative purposes only. These figures should not be considered as guarantees or projections of your actual earnings or profits. Talk Fusion does NOT guarantee any level of income or earnings to any Associate; any representation or guarantee of earnings would be misleading. The purchase of a Talk Fusion Product Package is completely optional and is not required for an Associate to participate in the Talk Fusion Instant Pay Compensation Plan.