Trévo Recognizes August Rank Advancement Leaders
September 11, 2014
By Nicole Dunkley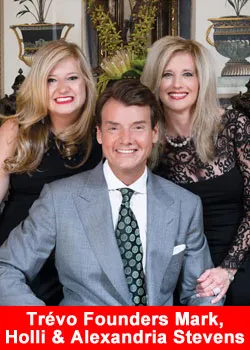 As Trévo continues its global expansion more and more people are enjoying the fruits of its recognition program. During just the month of August, six people qualified to receive Trévo's Car Bonus Program and hundreds of people received thousands of dollars in pool bonuses through Trévo's Pool Bonus Program.
In all, during August, 165 people advanced in the Leader level of Trévo's recognition program; 50 attained the Director level; and 12 moved up to the elite level of Executive.
The Trévo recognition program, which is directly tied to its generous compensation program, is a driving factor in the company's skyrocketing growth and success around the globe. "Recognizing the achievements of our Life and Health Coaches is something that we love to do," CEO Mark Stevens said. "Each achievement is an important milestone in their journey toward the greatness for which they were created and we celebrate that."
Stevens goes on to say, "It is truly a joy to be a part of empowering the lives of Trévo's global family. For each person whose life Trévo changes there is an opportunity to create a legacy of prosperity, purpose and wellness within their family, their community and their country. That legacy of making the world a better place, one life at a time, is our mission and our passion."
For more information about the Trévo opportunity and recognition program, please visit trevocorporate.com.
Below are the ranking achievements for the month of August.
Bronze Leaders
Beugre Bogui Adolphe, Eric Ikechukwu Agbachi, Franca Agbaso, Joseph Sambo Akpan, Innocent Omunakwe Amadi, Gnamien Marthe Amani, Max Ballard, N'Goran Eugenie Bla, Brian Carney, Stephen Chen, Okafor Juliana Chijoke, Beson Gloria Chinecherem, Okorome Chinedu, Amon Affra Claire, Osaro Jahdai Edo-Osagie ($500 Bronze Bonus), Adoni Affoua Espe Ekou, Susan Flowers, Olusegun Victor Okuro Francis, Daniel Danjuma Gangum, Benita Blessing Gonyere, Jimmy Grant ($500 Bronze Bonus), Marie Grant ($500 Bronze Bonus), Chelsey Griffin, Claire Hancock, J. R. Howard, Paschal Itoyah, Elizabeth Jones ($500 Bronze Bonus), Victor Joshua, Jerry Kennedy, Ghislaine Oulai Epouse Konate, Valerie Lambert
Sylla Massandjie, Michael McMillan ($500 Bronze Bonus), Pastor Harold K. Moses, Neba Boris Ndoh, Gideon Sampson Obot, Jack O'Brien, Gloria Eyikaivea Ohaka, Ruth Udu Ohaka, Omobolanle Olatise ($500 Bronze Bonus), Tamaranlayefa Ondukakpor, Duru Donatus Onyemaechi, Grace Moyinoluwa Owojori, Olanrewaju Owojori, Charles Oyeniyi, Kouadio Yao Pascal, David Richardson, Allison Roberts, Beatrice Shomkegh, Dan Sinclair ($500 Bronze Bonus), Phillips Sunsuwa, Kevin Taylor, Linda Taylor, Helen Tinsel ($500 Bronze Bonus), Holly Roxanna Twongirwe, Emmanuel Usifoh, Fidelia Uzoma, Comfort Victor and Osaze Michael Woghiren
Silver Leaders
Olusegun Ikhuosho Abode, Angela Abraham, Gaylon Adams ($500 Bronze Bonus), Crystal Adams ($500 Bronze Bonus), Bayo Olanrewaju Ajala, Joyce Akello, Osy Chukwugbo Benjamin, Dennis Clark, Shaundra Clark, Niangoran Charles, Roger Conroy, Sam Fitzgerald, Evarist Halerimana ($500 Bronze Bonus), David Ngoma Iliya, Timilehin Bayo Jemilehin, Lee Kaiser, Allen Kwaghkor, Susan Mooney, Wilson Obiuwevbi, Anthonia Chinelo Obodo, Sylvia Atieno Oguna, Osasere Osagie, Paul Reed, Michael Reilly, Elegbede Folorunso Stephen, Dawn Smith, Caroline Smith, Karidja Sylla, Loukou Gnamien Amoin Eunice Sylvia, Joyce Ekeigwe Uche, Jennifer Wright and Jane Zimmerman
Gold Leaders
Raymonde Agui, Osy-Chukwugbo Amaka, Carolyn Bakker, David Barber, Eric Brady, Rachel Cook, Janie Crutcher, Naomi Ngoma David, Genevieve Dixon, Maxwell Rex Emmanuel, Mary Essien Eno, Eric Foster, N'Zue Epse N'Dja Amako Denise Francoise, Terseer Douglas Guda, Emily A. Holden, Medugu Maimuna Ijai, Obot Samuel James ($500 Bronze Bonus), Theresa Akpomedaye Mamma, Tim Matthews, Lorie McGill, Oluebube Lawrence Ndukwuegbulem, Kouame John Marius Nguessan, Uju Lynda Nwaka, Nkiru Lilian Nwankwo, Peace Akudo Nwankwo, Mary Ogan, Margaret Olunga Ogutu, Beatrice Emurobohwo Ojuederie, Nneka Petronylla Okoli, Ayodele Olusodo, Roseline Akunjeri Oputa, Alan Pierce, Salim Rashid, Jill Stark and Alicia Sterling
Platinum Leaders
Adejumoke Adeola Adeyemi, Osita C. Akamelu, Kouame Ngoran Jean Alain, Elise Burrows, James Butcher, Nathan Carr, Sekou Coulibaly, James Cruz, Kouame Affoue Juliette Armande E., Chioma Lucymaurren Egbuna, George Flynn, Lee Ann Fuentes, Daniel Green, Libby Maslin, Paul McKay, Samuel Kiaka Moses, Adesegun Olowu, Bill Purdam, David Thomas, Nwokeke Chukwuka Udenze and Ebelechukwu Ebube Uzochukwu
Platinum Executive Leaders
Okechukwu Tobechukwu Akuta, Godfrey Arinze, Ruth Avila, Greg Campbell, Lanie Chambers, Godwin Osinachi Daniel, Kodjo Simon Foba, Olaide Folorunso, Elizabeth Frain, Loukou Gnamien, Simon Hopkins, James Lockhart, Florence Nwankwo Nkemdilim, Nathaniel Ogunniyi, Ndubuisi Festus Osadunkwu, Eric Parker, Richard Perry and Bethany Stahl ($500 Platinum Exec. Bonus)
Amethyst Directors
Peter Iornzuul Adoboh ($500 Bronze Bonus and $500 Platinum Exec. Bonus), Susan Almarez, Ashley Duncan, George Greenwalt, Lindsay Hampton, Ikengwu Nonye, Sunny Ogezi Ochapa, Chinda Ohaka, Rosa Mariana Olson, Kayode Akin Oso, Massawa Ralph, Kelsey Reed, Brody A. Thorpe, Yapo Adon Roch Jaures Wilson and Bragahi Thie Francois-Xavier Yessoh
White Sapphire Directors
Adebowale Dan Adams, Gary Archer, Tony Black, Josphine Ngozika Ijeozor, Braeden Johnson, Blaire Kelley, Jessica McDonald, Clarissa Milligan, Doris Ochuko Ojuederie and Terkumbujr Veronica Terpase
Ruby Directors
Danny Anderson, Jason Burns, David Galloway, Onyewuchi I. Imoh, Dambo Jane, Mary Ann Jones, Michael Mchia, Tonye John Samson and Anne Theine
Blue Sapphire Directors
Samantha Adams, Charles Aguilar, Nzue Kouakou Basile, Ted Blackmond, Antonella Camp, Appah Charles, Oluwabukola Abiodun Daramola, Lawrence Opara and Christiana Samson
Emerald Directors
Ngo Martin Alalibo, Harry Atkinson, Johnson Jude Chukwudi, Gloria Flores, Jeffrey Hatfield, Ejimkonye Osita Jude and Geno Wakely
Emerald Elite Executives
Alicia Atkinson, Billy Cannon, Sara Cannon, Donald Cochran, Appah Pere-Ere Michille and Lynn Goon Mwuese
Blue Diamond Executives
Benjamin Hough, Gnago Constantin Lebe and Christine Patel
Blue Diamond Elite Executive
Dwayne Kelso
Yellow Diamond Executives
Charlotte Santelli
Yellow Diamond Elite Executive
Kathy Allaway
Qualifying for Car Bonus
Adewale Adesanya, Catherine Tersoo Ankar, Benjamin Hough, Kouassi Kouame Lambert, Christine Patel and Ndri Emilienne Zouzou
ABOUT TRÉVO
Trévo's Founders are Mark and Holli Stevens who have a proven track record of over 16 years as owners of a successful network marketing company. Mark and Holli have also been on the "other side of the table" as independent representatives, building organizations with tens of thousands of members. This dynamic duo also possess nearly four decades of combined business ownership expertise.
Trévo's proprietary blend of over 174 premium nutraceuticals, including maqui and acai berries, mangosteen, amalaki fruit, gotu kola, ashwagandha and a cornucopia of other fabulous nutraceuticals. In fact, Trévo has developed the only nutritional supplement in the world to combine and harness the power of such a remarkable array of vitamins, minerals, "supergreens," antioxidant-packed fruits and vegetables, coral calcium, and herbs from around the globe.
Based in Oklahoma, Trévo LLC is powered by a global network of many thousands of energetic and excited Life and Health Coaches.