4Life Celebrates Strong International Growth
October 24, 2014
By Nicole Dunkley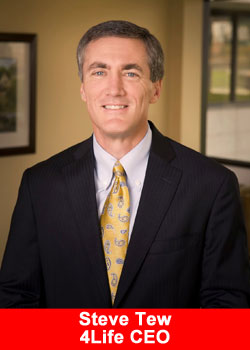 September 2014 represented the highest daily average sales month of all time for 4Life.
With year-to-date sales up approximately 15%, 700 worldwide employees continue to support independent distributors from offices in 23 countries with the company looking forward to opening its third European office in Hamburg, Germany next month.
In April of this year, 4Life was ranked #41 by Direct Selling News on its Global 100 list and has produced record-breaking results in the first three quarters of 2014.
Recently, 4Life President and CEO Steve Tew identified 10 international markets that are enjoying remarkable year-over-year growth.
South Korea: 131.7%
Indonesia: 130.2%
Hong Kong: 111.1%
Paraguay: 45.6%
Panama: 39.9%
Dominican Republic: 39.8%
Peru: 21.6%
Spain: 25.3%
Bolivia: 11.2%
Malaysia: 10.4%
Tew: "From Asia to South America, I have the privilege of interacting with 4Life distributors around the world.
heir commitment, dedication, and energy is unrivaled. I thank our independent networkers and 4Life employees for the collaborative work being done to ensure our company's ongoing strength as a world leader."
About 4Life
In 1998, 4Life Founders David and Bianca Lisonbee launched the company's flagship immune system support product, 4Life Transfer Factor. As the first network marketing company to do so, 4Life's leading group of doctors, scientists, and researchers continue to advance immune system science with innovations in product formulation, production standards, delivery methods, and more. Today, people in more than 50 countries enjoy the immune system support of 4Life products.