Air Purification Visionary Vinny Lobdell Joins ARIIX Scientific Board
October 14, 2014
By Tina Williams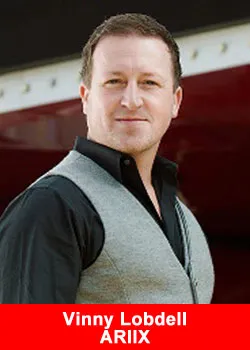 ARIIX, an international opportunity company that promotes healthy, toxin-free living, is excited to announce the appointment of Vinny Lobdell, an accomplished leader in the air purification field, to the ARIIX Scientific Advisory Board. This board is an exclusive group of leading experts and industry professionals that help to guide our global ARIIX wellness product lines.
As President of PURE Global and Healthway Home Products, Lobdell brings over two decades of experience and insight to the ARIIX team, and is instrumental in the development of our innovative air purification solutions. A regular lecturer at major educational institutions around the globe, Lobdell is sought after for his knowledge and insight into the ways air quality issues affect people both at home and at work and for his unique perspectives on international business.
Lobdell is on the media's go-to list for guest expert appearances for local, regional and national TV shows, including Fox and Friends, America's number one morning news show. He can often be found serving as an expert panelist at international industry events. He recently delivered the keynote address at the Shanghai Hotelex, the world's largest hotel show, addressing executives on the importance of healthier indoor environments.
"I am honored by the invitation from ARIIX to join the Scientific Advisory Board," said Lobdell. "It's obvious that the ARIIX leadership team are seasoned executives who understand the business and the market, but what truly impresses me is that they are really about people first.

"We are at the forefront of what the World Health Organization has termed the number one global health problem – toxic air pollution. I look forward to helping ARIIX bring long-term, sustainable solutions directly to those who need it most, as we work together to expand into new markets dealing with overwhelming air quality issues."

"We are pleased to welcome Lobdell to the team," said Deanna Latson, ARIIX Chief Product Officer. "His commitment to providing the global community with real solutions for improving their environment and their health is a perfect fit for our Scientific Advisory Board. He has already proven invaluable in the development of quality products we are confident will make a big difference in the lives of those struggling with air pollution."
About ARIIX
ARIIX is a global opportunity company using the latest research to create leading-edge health and wellness products. The company was born from the shared vision of business leaders in the health industry who wanted to create a unique company based on the Golden Rule of helping others to unleash their potential for good.
ARIIX stands out with a combination of worldwide vision, outstanding industry experience and leadership, products of unrivaled quality, and the philosophy that when one person thrives, the whole community benefits. ARIIX currently operates in the United States, Canada, the Netherlands, China, Hong Kong, Japan, Taiwan, Singapore, Russia, Ukraine, Kazakhstan and Mexico.